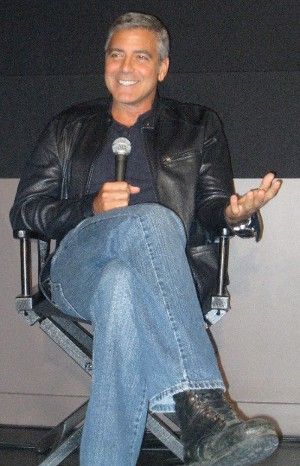 "Hey," Clooney interrupts, "those were my pants!"
At the press conference for the NYFF closing night gala film The Descendants, I said to director Alexander Payne: "For someone who dresses as well as you do, you really know how to put George Clooney into the ugliest pants he ever wore on screen."
As Payne looked somewhat wide-eyed at the suggestion he is a smooth dresser, Clooney, right next to him, sat open-mouthed.
"Hey", Clooney interrupted me, "those were my pants!" I continued to ask Payne about the hibiscus flower print overload and his collaboration with the costume designer Wendy Chuck.
First, he asked me back, if I had ever been to Hawaii, which I haven't, and then explained that this is exactly how everybody dresses there. Beau Bridges, who plays Clooney's cousin Hugh in the film and has a house on Hawaii in real life, is the next to interrupt.
He asked if I remembered the shirt he wore in the bar scene. "I silk-screened that myself 20 years ago," he added, to the audience's delight. Payne added: "The first time I saw George with the Hawaiian shirt tucked in his pants" that he knew it would be the end of Clooney's career as the seducer. Not yet ready to give up the most absurd fashion interview I have ever conducted, I asked Clooney how he felt wearing the high-waisted khakis from hell.
"The higher they went, the more uncomfortable I felt," he said. "But, hey, I'm from Kentucky…"
Moving away from the pants, it seems the whole cast of The Descendants must have enjoyed the experience immensely, as they had nothing but genuine praise for their director.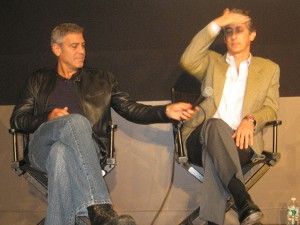 Little Amara Miller [who plays Clooney's youngster daughter, Scottie in the film] regretted having had too much ice-cream during her scenes, Shailene Woodley [older daughter Alexandra] was relieved about how welcoming Clooney was to her on the set, Nick Krause [Alexandra's pal Sid] loved to be punched in the nose by Robert Forster.
Meanwhile, the disarming Judy Greer [the wife of the man with whom Clooney's spouse was having an affair], said she was "always kind of nervous" and hinted at an unusual sex scene she had with Clooney for a film many years ago, at which he dead panned:"You are nervous ever since…".
Matthew Lillard called his part as Brian Speer, a once in a lifetime opportunity, "up there with Lawrence Of Arabia", because he is the one who steals George Clooney's wife from him in the movie.
It was the most engaging press conference of the festival, and the last one for this year.
All photographs: Anne-Katrin Titze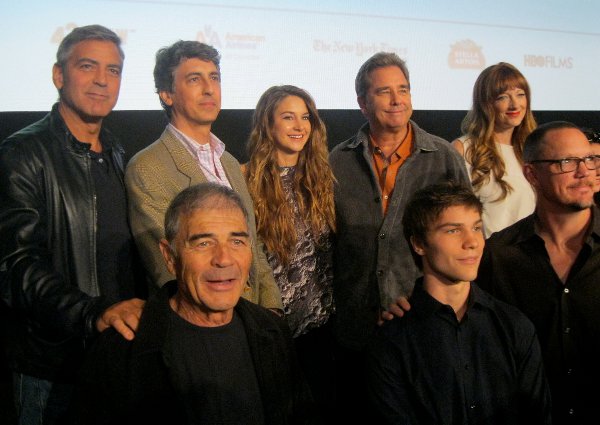 Back row: George Clooney, Alexander Payne, Shailene Woodley, Beau Bridges, Judy Greer Front row: Robert Forster, Nick Krause, and Matthew Lillard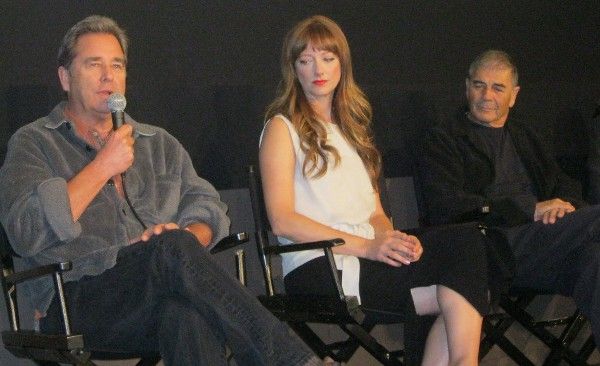 Beau Bridges asks if I remembered the shirt he wore in the bar scene. "I silk-screened that myself 20 years ago". L to r Beau Bridges, Judy Greer, and Robert Forster
Share this with others on...