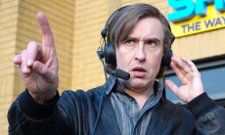 Steve Coogan in Alan Partridge: Alpha Papa
The 51st edition of the festival that aims to be a celebration of cinema from around the world.
Actress Cate Blanchett and actor/director Ralph Fiennes will be feted this year with gala tributes during the festival, which runs from September 27 to October 13. The annual celebrations recognise the work of individuals who have made "significant artistic contributions to film culture in the past and will continue to do so in the future."
The festival - which will feature British offerings including Alan Partridge: Alpha Papa - opened with Captain Phillips and close with Her and feature a 20th anniversary screening of Dazed And Confused.
The festival runs from 27 September to 13 October.
View Films by Strand:
View previous years coverage of the New York Film Festival festival:
New York Latest Reviews
New York Film Festival Features
New York Film Festival News
Feline groovy
Coens at Cannes reveal how cat saved the day for Inside Llewyn Davis.