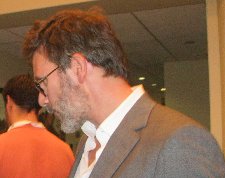 Michel Hazanavicius, The Artist is "larger than an homage to the silent era..."
For Michel Hazanavicius, The Artist is "larger than an homage to the silent era - but to all movies from the Twenties to the Fifties". Referring to the marvelous breakfast scenes he added: "I stole mostly from Orson Welles and the dog of Bérénice's friend."
After the New York Film Festival conference, I spoke with Michel, to ask if there had been any Nuit Américaine incidents with directing the dog. (In François Truffaut's 1973 Day For Night a cat's decision to drink or not drink milk holds up the entire crew for a long time.) Not so here, Jack Russell terrier Uggie was a true professional. Bérénice Bejo also did a lot of research for her Peppy; a bit of Janet Gaynor, some Gloria Swanson, a few winks and whistles from Marlene Dietrich and a lot of Joan Crawford: "Especially the young Joan Crawford, when she was 20-25 years old. She was very crazy, she had a lot of freedom, she danced very well. I watched her dancing on the internet hundreds of times."
After the press conference, Bérénice told me, that although she copied Joan Crawford's steps from Dancing Lady (1933), her greatest idol is Eleanor Powell: "She's the best!"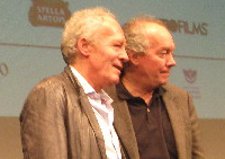 When asked about favorite filmmakers, the Dardenne brothers mentioned Krzysztof Kieslowski. I can easily imagine The Kid With A Bike, all in red, racing through the background of the Three Colour Trilogy or the Decalogue, like a little phantom from the future. After the conference, I asked the brothers about their favourite fairy tales. Jean-Pierre, with a big smile, said it was Little Red Riding Hood, and waved his brother over to tell me his favourite. "Cinderella," Luc, also beaming, gave me as his answer. "That explains the bag of coals on the bike at the end," I said, and after a moment of hesitation and confusion, Luc shook his head, then nodded. It hadn't crossed his mind, but fairy tales are sneaky. They find their way into our lives in many disguises.
Steve McQueen mentioned Billy Wilder's The Lost Weekend (1945) three times during the press conference as inspiration for Shame, another film "all about addiction". "A lot of New Yorkers live and work in the sky," Steve McQueen captured New York City well - from the subway, to broken traffic lights found along a nightly jogging expedition. Ray Milland's solitary walks through New York City in search of the next bottle have found a contemporary mirror in Michael Fassbender's futile runs of escape. McQueen said at the New York Film Festival press conference, he was "bringing the film home". "No one wanted to do this (Shame) in London."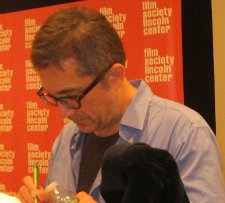 Nuri Bilge Ceylan's favourite Clark Gable movie is The Misfits (1961). When you see Once Upon A Time In Anatolia, you will understand. Most of the actors in the film are amateurs. "If an actor doesn't work, I talk to the other actors. I try everything," Ceylan said about his ruthlessness to get the best from everyone. "I deceive them, I lie to them, I shoot them secretly – you never know what is going to work."
Director Sara Driver gave Jim Jarmusch, who was the cinematographer on You Are Not I, the idea for his film Broken Flowers (2005), in which Bill Murray travels to visit a series of old loves. She told me after the conference that she always loved fairy tales and is currently working on a project of seven tales of metamorphosis to be directed by seven directors. They are going to be international tales, each 12 minutes long and targeted for children.
Sara has since informed me that the directors confirmed thus far for Tales From the Hanging Head are: Emir Kusturica, Marjane Satrapi, Michel Gondry and herself. "My partners are French and we plan to start shooting in spring of 2012."
Producer David Thion of Les Films Pelléas met director Mia Hansen-Løve after the death of French producer Humbert Balsan, who inspired her previous film, Father Of My Children (2009).
"Whenever something is too expository, when there seems to be an indication of what happens after, I strike it," the director said about her counter-Hollywood approach to foreshadowing. I remarked to Hansen-Løve about her painterly use of colours, specifically the way she positions objects and clothes in reds, blues, and whites. She was happy, that I did not mistake it for metaphor, as it is the sensual quality that makes her place a red bikini in front of a bright blue summer sky. She referred to Eric Rohmer, who once said, that every film has a color. "Obviously, this one is red."
Share this with others on...