Hani Furstenberg and Gael Garcia Bernal as Nica and Alex in The Loneliest Planet
One act, lasting maybe a second, stands at the core of Julia Loktev's remarkable film about a young couple on a hiking trip in Georgia's Caucasus mountains. I caught up with Julia at the Soho Grand Hotel in New York City to discuss her journey with The Loneliest Planet, which opens today in New York.
Anne-Katrin Titze: You give an interesting perspective on nature in The Loneliest Planet. You show almost no sky.
Julia Loktev: You have sky but the sky is only like slivers. You have a corner of the sky. We never allowed the sky to go all across the top of the frame. We kind of didn't want to open up the stage. We didn't want to have an escape route at the top of the frame.
AKT: Like another green room? You start out with two rooms that are painted green.
JL: I never thought of it. There is a kind of closing in that.
AKT:: Which also gives the movie that fairy tale look. Hansel and Gretel in the mountains. The characters are very small and the landscape very wide.
JL: I remember you mentioned Hansel and Gretel last year (after the press screening at the 49th New York Film Festival). I wanted it to feel like a memory. A little bit removed from the every day reality. A little bit magical. The way memory often turns into a story. It turns into a kind of tale.
AKT: The incident [not to be given away here] at the centre of your film provokes a lot of different interpretations.
JL: It really goes across the board. And I can't predict. I can't say women see it this way and men that way. Not at all. It's really individual. The whole second half of the film. What happens to the characters, it's not just the actual fact of the scene, but how they emotionally respond to it.
AKT: The moment right before the scene, Alex (Gael Garcia Bernal) and Nica (Hani Furstenberg) throw food at each other and play at catching it in the air. The playfulness before the storm.
JL: Like they are pretending to be seals.
AKT: I am curious about your thoughts on the costumes. The bamboo pattern underwear and Nica's worn out T-shirt with the faded leaf pattern. It is such a painterly film, so I am sure these are not coincidences.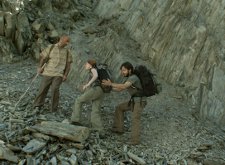 JL: I am very, very, very specific about everything that goes in the frame, including her underwear. I remember a friend of mine saw the film and said: "I can see you in every part of it. I can see Julia in the underwear." We thought about every detail, including dying the Old Navy khaki pants that Gael was wearing a slightly different shade of khaki. They wear the same things throughout the film, that was important to me. They are doing what people do when they travel which is, you layer, you take the shirt on and off.
AKT: Her colours also mirror the landscape. Her prominent red hair and the greens. For the Fair Isle sweater you chose a green and black pattern.
JL: It's because you have such an absolute limited palette. The majority of the screen is green, what pops is her red hair. If we had somebody in a red shirt, you'd be looking at the red shirt all the time. They wear very kind of every-day clothes. It's funny, I've seen somebody describe the characters as hipsters. And I was thinking, he's wearing Old Navy!
AKT: And the pants are very unflattering for her.
JL: Hani, the actress, would completely agree with you. I'm sure she complained that the pants are not flattering. They are really not hipsters, or on a runway. They are there in the mountains… Both Gael and Hani's characters are trying to find out what they feel.
AKT: Tell me about their guide, who, you said, is a real mountaineer and not an actor. He is great. How did you find him?
JL: We basically talked to all the middle-aged actors in Georgia who could speak a little bit of English and then we ended up talking to professional mountaineers. And they all pointed to him, Bidzina Gujabidze, and he is the most famous mountaineer in Georgia. He had no interest in acting whatsoever. In fact, he had planned an expedition to the Himalayas during the shoot. He turns out to be fantastic. His sense of humor, his sense of timing. He has impeccable comic timing. He would do crazy things in the background. He was a find, I have to say, an incredible treasure and a pleasure to work with. We just had so much fun working together, and scheming what we would tell this couple.
AKT: After last year's New York Film Festival, The Loneliest Planet went on to other festivals around the world. Did the film change for you?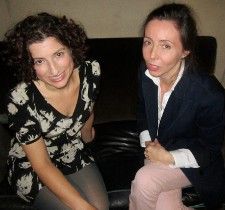 JL: I haven't been watching it. I've actually seen it only one time since. When it was in Georgia, at the Tbilisi International Film Festival. And then I couldn't resist, last winter, getting a big beer and standing in the back, seeing how the Georgian audience would respond. They thought the first half was a comedy. And I thought, wow, this is really satisfying making a comedy, when people started laughing. I could understand the appeal and I thought, maybe that's what I want to do next. It was important to me that the Georgian audience was able to appreciate it.
AKT: They must have been some of the few to understand what the old woman is saying at the start. I like it that most of us don't know and guess from her expressive face.
JL: The couple doesn't know what she is saying either. They just keep saying the equivalent of thank you. No matter what, say thank you, that's the golden rule of travel.
AKT: The first sentence we do understand is: "Good morning, I have to pay my taxes," said by Alex to the Georgian children when he constructs a face out of a banana and other food.
JL: Hmm. That's funny. Because there is a first line, but it's very mumbly, without subtitles you don't necessarily hear it. But the first line of the film is Gael coming in saying, 'Sorry, sorry, sorry,' as he brings in the hot water.
AKT: Seeing it again this morning, I noticed how long she has to wait for him and how cold she is in her shower. You push the length of your shots in several places, for the audience to go where they might not want to go.
JL: Maybe because you've seen it twice. Not shockingly. I haven't quite gone to Béla Tarr territory. There are filmmakers that have much longer shots by comparison.
AKT: No, not shockingly and I like Béla Tarr territory. I am thinking of the Chinese joke or the song Señor Don Gato that go on for a really long time.
JL: It is a very funny song. It's like the cat that has nine lives. The same with the jokes. There's another chapter to the joke. I enjoy that.
AKT: You did an installation at the Haus der Kunst in Munich some time ago?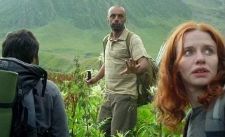 JL: Yes, that was a while ago. They used a couple of my images for the programme book of the Munich opera house for the production of Götterdämmerung this year. I was very surprised. It was an installation filmed in the New York subway. It was also at PS 1 and the Tate Modern. Gosh, that was almost ten years ago. Recently, I haven't been doing that much video. I find I am more and more attracted to the space of a movie theatre. I like when people come into a dark room. They're there for the beginning and they stay till the end. That's something that is hard to find in an installation setting.
AKT: The film is clearly well planned, but you are in the mountains, after all. Did any accidents happen that made it into the film?
JL: The bug in the eye.
AKT: In the middle of the Chinese doctor joke?
JL: In the middle of it.
AKT: And the peeing pig?
JL: The pig peed all by itself.
AKT: The most brilliant director.
JL: Yes, I can make a pig pee. I'm that good. No, some things just happen and so much of it is just being ready and in position to catch it and not calling cut. Which a lot of people would, if things are not going as expected. Those are the moments that I like to keep rolling. Sometimes that's the best stuff.
Julia Loktev's inspired voyage in Georgia (Roberto Rossellini's Voyage In Italy, 1953 was a major influence for this film) explores issues from hospitality to masculinity. The Loneliest Planet spins a carefully constructed net around your imagination.
Share this with others on...