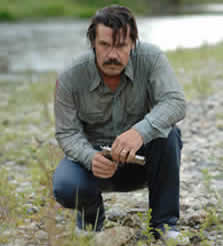 No Country For Old Men was among the films receiving their premiere.
The New York Film Festival was created in 1963 to bring to New York the best films from abroad and to highlight American films "that might have otherwise passed unnoticed," wrote Richard Roud, who, along with Amos Vogel, co-founded the festival. Now in its 45th year, it aims to showcase the cream of the crop from around the world.
Although not as large as leviathans such as Sundance and Toronto, it aims to provide a smaller showcase, with the emphasis firmly on quality. This means many of the films on show have already won awards - 4 Months, 3 Weeks & 2 Days (Golden Palm), The Diving Bell And The Butterfly (Best Director At Cannes), Redacted (Silver Lion in Venice) - while others, such as Sidney Lumet's Before The Devil Knows You're Dead and the Coen Brothers' No Country For Old Men were hotly (and rightly) tipped to be audience hits. This year's festival featured 28 films.
View previous years coverage of the New York Film Festival festival:
New York Latest Reviews
New York Film Festival Features