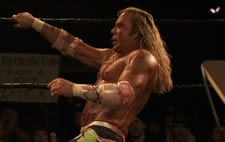 Mickey Rourke in Darren Aronofsky's The Wrestler
Now in its 46th year, the New York Film Festival has a slightly different remit to many going on around the world. Rather than being a marketplace, it aims to be a showcase of talent, bringing together the best work from festivals around the world - from newcomers and established filmmakers.
Highlights this year include, Clint Eastwood's Changeling and Darren Aronofsky's The Wrestler - fresh from scooping the Golden Lion at Venice (see our news story).
The festival also features a Views from the Avant-Garde section which premieres non-narrative, experimental film and video. This year's main slate features 28 films from 18 different countries.
This year's festival also featured a "near-complete retrospective" of Japanese fillmmaker Nagisa Oshima.
View previous years coverage of the New York Film Festival festival:
New York Latest Reviews
New York Film Festival Features
Revolutionary life
Director Steven Soderbergh on making his two-part epic about Che Guevara.
City of memories
Director Jia Zhang-Ke talks about the inspiration behind his fact meets fiction look at the lives of factory workers.
Appetites of Hunger
Director Steve McQueen talks about what drove him to make his Camera d'Or winning film about Bobby Sands' hunger strike.