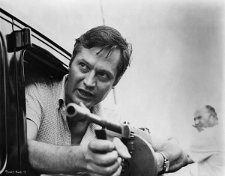 Corman's World
Editor's Note: The New York Film Festival press office has requested on behalf of the filmmakers that reviews of the film be limited to capsules as opposed to full reviews at this time.
Corman's World: Exploits Of A Hollywood Rebel (95 min, US) Directed: Alex Stapleton
Meet Roger Corman in all his contradictions in this delightfully informative documentary. Alex Stapleton brought together a wide variety of voices from the film industry to share their experiences with the eloquent irreverent man, the infernal filmmaker, the rebel in a button-down, in a series of first person accounts. Find out why "a monster should kill someone fairly early on", how Corman met Jack Nicholson in acting class, how he invented the "teenager", made the first integration movie with William Shatner and had his life threatened, and brought the films of Ingmar Bergman and Federico Fellini to American drive-ins.
Writer and director John Sayles talks about how Corman could have made Lawrence Of Arabia without leaving the tent, while Silence Of The Lambs helmer Jonathan Demme reveals never missed a Corman-made Poe movie. Peter Bogdanovic and his ex-wife were assistants on The Wild Angels and he was given the task to add women into The Gill Women Of Venus while Jack Nicholson discovered he is a movie star at Cannes. Scorsese directed Boxcar Bertha (1972) for him. Ron Howard, Pam Grier, Robert De Niro, among others, add their personal reflections to this well-edited tribute scored to Can-Can. Just like a "slightly imperfect tie is perfect", so is this documentary.
The Intruder (the only movie of his to ever lose money and his favorite), will be screened with Corman's World: Exploits of a Hollywood Rebel.
Special Anniversary Screenings of note at this year's festival:
Laputa: Castle In The Sky (Directed: Hayao Miyazaki) - 25th Anniversary Screening
The Exterminating Angel, (Directed: Luis Buñuel) - 50 Years of the New York Film Festival
Howards End (Directed: James Ivory) - 20 Years of Art Cinema: A Tribute to Sony Pictures Classics
The Royal Tenenbaums (Directed: Wes Anderson) - 10th Anniversary Screening
Spirited Away (Directed: Hayao Miyazaki) - 10th Anniversary Screening
Share this with others on...