Lil Bub, of Lil Bub & Friendz fame, made herself at home on the red carpet with companion Mike Bridavsky, directors Andy Capper and Juliette Eisner, along with Bub editor, Devin Yuceil, and VICE Co-Founder, Suroosh Alvi for the Tribeca Film Festival World Premiere at the SVA Theatre in Chelsea last night.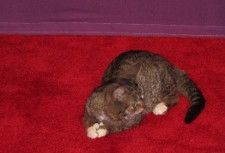 Andy Capper's and Juliette Eisner's high-spirited Lil Bub & Friendz captures the adventures of "a tiny complex creature," who found her way from "somewhere in space," to become one of the most beloved cats on the internet. She is a classic fairy tale hero. The little underdog, or cat, who starts with nothing in the world and then gives back.
I had a chance, just before Lil Bub made her red carpet appearance, to have a discussion with Dr. Jeffrey Bussolini, Director of the Center for Feline Studies/Feline Interaction Laboratory, the first center of its kind conducting non-invasive relational studies on domestic cat social ecology.
Anne-Katrin Titze: How did you get involved in the film?
Dr. Jeffrey Bussolini: They contacted me. They knew that I studied human - feline interactions. They wanted my input.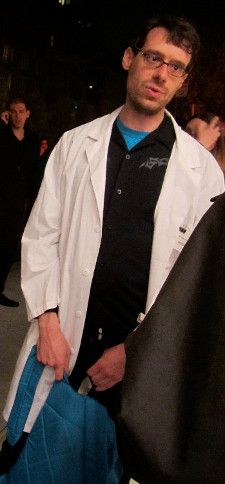 AKT: Did you hesitate?
JB: I was excited from the get go but then I wanted to know what they were going to do. They showed me some of the footage they had already and it became clear that they had a very caring, interesting and loving take on the subject matters.
AKT: What exactly is it you are studying?
JB: I study social interactions between felines and between felines and humans. A lot of researchers nowadays believe of course that animals have minds, have complicated minds. And that they have culture as well. So we are studying cultural interactions between felines.
AKT: What are some of the most interesting discoveries you've made in your field?
JB: That cats will eat spicy chili peppers. It isn't supposed to happen. In comparative psychology they explain that other mammals will never eat spicy chilies. But our cats on their own sought out spicy chilies.
AKT: Which doesn't mean that we should all start feeding our cats peppers?
JB: Let the cats decide. The chili peppers were hanging there on the wall. They went to find it themselves. At first I stopped them, but then, I figured, it's something they like, something they want.
AKT: What other findings did you make?
JB: They also learned to open the refrigerator by themselves. Then taught other cats to do it. We put locks on the refrigerator and they started to take the locks down. So there's a kind of tool use behavior. The other major thing is yoga, cat yoga. The cats like to take part and do yoga with us, a kind of intersubjective bodily interaction between humans and cats. Not only that, a lot of people think - which is probably accurate - that yoga and tai-chi probably originated by people watching animals and imitating what animals were doing.
AKT: Are the cats doing the yoga on their own or with the humans?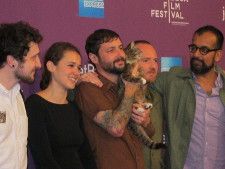 JB: Both. They are always stretching, always aware of their bodies. Just before I came here I was doing yoga and one of the cats was repeatedly jumping up on my shoulder.
AKT: Do you place things in their living space to test reactions?
JB: They are living in a space where we also live. We are looking into the human -feline interactions, some of the things will just be there and they take the initiative.
Lil Bub and her owner, Mike Bridavsky went on a undomesticated cross-country caper to meet the Internet's most famous cat-lebrities. Grumpy Cat, Nyan Cat, Keyboard Cat included. As Andy Capper called them - "the main dudes."
Anne-Katrin Titze: How are you Bub?
Mike Bridavsky: She's just cold right now. And gets a lot of attention.
AKT: Her health is okay?
MB: It is. She has a bone condition that makes it hard for her to walk. I have a very good vet who takes good care of her.
AKT: Because at the end of the film, there are some scary moments.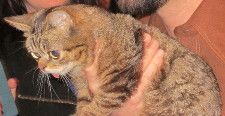 MB: That's not how it ends, but yes, there was a scare.
AKT: It is absolutely wonderful to see her here on the red carpet in such good spirit and shape.
MB: Now she's cold and bit scared of all the cameras.
AKT: This is a VICE film. Does Bub have any vices?
MB: Tuna and yoghurt are her vices.
Catch this film and Lil Bub in person at the Tribeca Drive-In screening at Brookfield Place (World Financial Center Plaza) on Saturday, April 20. The free evening of cinema under the stars is open to the public, and seating is available on a first-come, first-served basis on Saturday, April 20. The program will begin at 6 p.m. VICE Magazine will present Lil Bub & Friendz at dusk (approximately 8:15 p.m.). Pet enthusiasts unite! Enjoy activities, contests & giveaways for cat lovers of all ages.
Additional public screenings: Tuesday, April 23, 6 p.m. AMC Loews Village 7-1 – Thursday, April 25, 3 p.m. AMC Loews Village 7-1
Share this with others on...