Tribeca Film Festival's Artistic Director Frédéric Boyer and I met up for a conversation at MoMA PS1 during Michelangelo Frammartino's World Premiere of the breathtaking 28 minute continuous cinematic installation Alberi in the VW Dome. This is Boyer's second year at Tribeca, after running the Directors' Fortnight program at the Cannes Film Festival. We discussed how to bring nature into an urban setting through films like Bruno Barreto's Reaching For The Moon, Reha Erdem's Jîn, Whitewash, directed by Emanuel Hoss-Desmarais, Hisham Zaman's Before Snowfall, and Red Obsession, directed by David Roach and Warwick Ross.
Interacting with cats, Lil Bub & Friendz, tree people, and being Tricked by Paul Verhoeven - Tribeca 2013 challenges the boundaries of cinema.
Anne-Katrin Titze: This is your second year at Tribeca.
Frédéric Boyer: Yes, my second edition as Artistic Director for the Tribeca Film Festival.
AKT: Artistic Director can mean many things. What is specific about being Artistic Director for Tribeca?
FB: It's not only programming. It is not only having taste to choose films, but also to position the films together, like a film editor. You need to have a comedy… but we don't have an agenda. We are watching films and bringing the ones we think are the best. We are bringing the quality, we don't have a mission to please the press, or to please the sales company. The most important thing is to create something distinctive/instinctive. But in the end, it needs to have a current. For example, you have a film about screenwriting. Paul Verhoeven is coming [to discuss his new style and structure of crowd-sourced filmmaking for Tricked], showing a film that is totally unique. It is also to play Alberi at the PS1, to have this first collaboration with the PS1. Not to think about the future of cinema, but how can we watch film outside the screening room? What is the duration of a film? This film is playing in a loop for ten days, with no beginning or end.
AKT: It's a lovely unique experience.
FB: You don't have any credits. People are sleeping, people are going inside, outside, so it's a different way. Michelangelo explained to me, this was the way he was watching films with his father a long time ago. It is not reinventing, but questioning the idea of the dark room. Watching the film in the dark room. When I introduce, I can't say enjoy this film, I can say enjoy this cinematic experience. When you see the film, the experience is also extremely physical because it is about the relationship between human beings and nature. We cannot say it's a mute film, because there is sound.
AKT: Indeed not. We are standing outside the dome and we hear rustling and birds and chants. Would you say that you want to challenge the audience with your selections for Tribeca?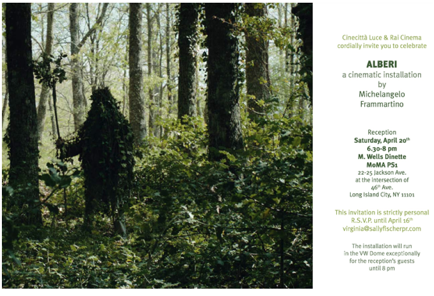 FB: Of course!
AKT: For example choosing, Lil Bub & Friendz, next to Hitchcock's The Birds as your free Tribeca Drive-In outdoor screenings by the river is funny and inspired programming.
FB: For Lil Bub, you know, people can also come with their cats. There will be all those cats and the cats can see the film. Lil Bub is not only a film, it's an internet phenomenon about cats. For me there is no problem and there is a connection. For me as artistic director, I need to find a connection between Alberi and Lil Bub.
AKT: It's there. You have the theme in your festival, a question - how do we perceive nature in 2013?
FB: Absolutely! You are totally right. I really like this. It's a wonderful question. When I'm programming, I'm always thinking: I need to bring beauty, I need to bring nature, I need to bring adventure, I need to bring snow. We have a film called Whitewash, which is a thriller in the snow.
AKT: I interviewed the director and Thomas Haden Church yesterday.
FB: It's a fantastic thriller. With programming it's also questions like what is the grain , what is the sound, what is the image, it's not only the content and the thematic of the film. It's the intricacy, talking about the filmmaking, it's like music. You know, I love disco and I love punk, it's not a problem for me. And I'm also listening to Mozart. It depends on how you are listening altogether.
AKT: I am only realising just now, talking to you here at PS1, standing outside in the sunshine on this beautiful afternoon, how many films in this year's program actually have strong nature imagery. There is also Reaching for the Moon, Brazil with a forest full of owls…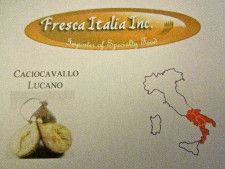 FB: Reaching for the Moon, absolutely. For me it is extremely important that nature comes in the cinema. One of the films you should see is from probably one of the most important Turkish filmmakers Reha Erdem. He has a film called Jîn, about a girl lost in nature. You also got Before Snowfall, a Norwegian film.
AKT: Red Obsession, [all about Bordeaux vineyards and China] as well. This theme makes for a good juxtaposition. We are in New York City, Metropolis.
FB: Yes, maybe it is also a little bit different to bring a program on the seaside.
Sam Fleischer's Stand Clear of the Closing Doors will take place on April 27, 7:00pm, at MoMA PS1's VW Dome 2 (1-94 Beach 95th street, the Rockaways). The seaside event is free to the public.
For the reception at MoMA PS1, we were in for a special Italian treat of Caciocavallo Lucano. "I've been told that we are going to taste the best Pecorino in the world," Frédéric Boyer said, and pointed towards the slowly sinking sun forming shadows on the red brick former schoolhouse.
Share this with others on...