Lil Bub & Friendz will screen at the Tribeca Drive-In
Photo: Vice
In New York City, on a beautiful spring morning I met up with the directors Andy Capper and Juliette Eisner for a conversation on their film Lil Bub & Friendz, which will have its World Premiere at the Tribeca Film Festival. The high-spirited film captures the adventures of "a tiny complex creature", who found her way from "somewhere in space," to become one of the most beloved cats on the internet.
I asked how the cats featured in the movie were chosen and Andy Capper told me: "We wanted the big names. An A-list cast. [Could Capper be using an anagram here?] Like in Ocean's Eleven you have Brad Pitt, Al Pacino, George Clooney. We have Grumpy Cat, Nyan Cat, Keyboard Cat, Lil Bub - the main dudes. We wanted an all-star cast."
Anne-Katrin Titze: First question, of course, how is Bub?
Andy Capper: Good, I think. She's always going to be struggling, which is why we made the film, to point all that out. When I first saw the cat - that prompted me. We were originally going to make a ten-minute thing about the internet cat phenomenon. But when we met Bub, it was kind of magical. She gives off this sort of Zen quality. We also saw that she wasn't quite right. And I was like, what are the health issues for this cat? We knew then, we had a movie to make.
AKT: And you knew that it had to be now?
Juliette Eisner: The scenes at the ending, that was not staged. He (Mike Bridavsky, her owner) was actually going through a terrible time with her health. We thought that she might pass away before the end of the film.
AC: We had a couple of plans. Plan A and plan B. She's okay. We talk to Mike every day.
AKT: Why cats?
AC: Because they do such unscripted, funny, heart-warming things. TV got scripted and boring. People look at it just to feel better about themselves. Cats, they're cute and unpredictable. You have to go to somebody's home to see them. In New York City especially, everywhere on the street, there's a dog, in your way, on the pavement. The cats are very rarely seen, so you have to go on the internet to look at them, unless you'd go to different people's homes, which would be a bit weird.
AKT: How did it start? You met Bub at the Internet Cat Video Film Festival?
JE: Yes, we went to the Internet festival to do a little piece on that. Meet some funny cat people.
AC: That was going to be the "mean" piece that people want. But then we wanted the cat and what it represented. [They had asked me when I arrived at the café, if I had heard any criticism of the film at the press screening and I told them about a comment from someone, that the movie wasn't "mean enough"]
AKT: The cat converted you?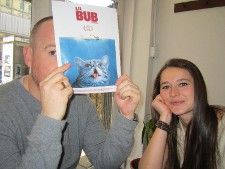 AC: I always was a cat person, but I knew in Mike's story, the cat kind of saved him. He was having a bad time with life, no money, he didn't know what he was doing. He finds this cat behind a barn, puts a photo on the internet and overnight his life is changed for the better. The attention and also what his relationship with the cat gives him. He was a struggling musician, and then the money and fame starts coming in through the cat.
AKT: How is his music doing?
AC: He's doing great, he plays Japan a lot. The music industry is so on its knees right now. Maybe ten years ago Mike would be having a five album deal. The warehouse said that the cat is shifting more shirts than 99 per cent of the actual label.
JE: She has become like another job for him. More than just a part-time job.
AC: The cat is like a real thing. It's not something phoney or fake. Even with the cat in space, or the cat in heaven or hell, still the cat's there. [These are some of the scenarios built for Bub in the movie]
AKT: Bub is such a wonderful protagonist. Going through the journey with her, it's hard to imagine doing that with any of the other cats. You also see the love that Mike has for her.
AC: The main meaning of the film is about love. The nature of love.
JE: He has a deep connection with her. She's almost like his little child, which makes you want to love the cat even more.
AKT: You show other people with their cats, their famous internet cats. You do see quite a difference in the relationships.
AC: They are definitely definitely more opportunistic. That's a nice way of saying it. Really, there's nothing special about them, when you compare it to Bub or Grumpy Cat. Those two are the only ones to have something special. The others just have a cute face or they tolerate their owners dressing them up as Santa Claus or a cowboy. These two don't have to be dressed up, they just look.
AKT: I loved that you went with Bub to the Exotic Feline Rescue Center.
AC: It was great to film there.
AKT: How did that come about?
JE: That is actually one of the organisations Mike donates to. He gives a lot of the money that Bub raises to charity organisations. So he told us about that and Andy loved the idea of going to meet tigers.
AC: Actually, we were in areas where we were not supposed to be to get close-up shots. Those were the scary ones. It was great. I thought I really want to be a wildlife photographer. It was great to play with the tigers.
AKT: You give some awareness about people thinking it's funny to raise tigers and lions in Indiana and then abandon them.
AC: We wanted to show that in order to have a successful relationship with your cat or any other animal, you've got to put time and care into it, and love. You can't just have them as an accessory.
AKT: Are you familiar with the work of the Austrian filmmaker Ulrich Seidl? I am specifically thinking of his film Animal Love (1996), about Austrians and their pets.
AC: Yes, yes, Animal Love, Werner Herzog's favourite movie.
AKT: Seidl goes far. You approach the territory with the guy who says he understands serial killers.
AC: He represented the internet. He was raised on the internet. His sickly pallor, strange demeanor, sitting in this dark room staring at cats.
JE: I love Grant. He was the most interesting character. He would talk about how he was such a nerd, growing up, and then suddenly cats became cool and he started becoming cool.
AC: We want people to laugh but not make a laughingstock out of these people.
JE: I don't think we're making fun of them. We might think what they're saying is crazy, but maybe we just don't have the same views.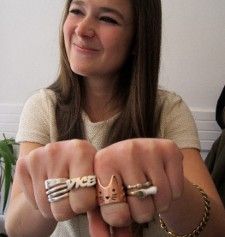 AKT: Some people might think wearing jewelry with cats is crazy. [Juliette, across from me is wearing a golden cat necklace and the lovely rings you see in the photo]
JE: Right, they're going to be an Instagram hit at Tribeca - the cat ring and the Vice ring.
AKT: Do you have cats?
AC: Yeah, mine's in London at the moment. Peanut. I miss her. What I miss about London is the cat. I've had her for seven years.
JE: I don't have any cats right now. I'm an only child and I had two cats when I was growing up. I picked them out when I was two or three. I named them Brother and Sister… The thing about Bub is that it's not just her face and that she's cute but she definitely has a message. Her owner really wants people to know that she supports local charities, local animal shelters, that they give a lot of the revenues that they make from the merchandise to these organisations.
AKT: She is a classic fairy tale hero. The little underdog, or cat, who starts with nothing in the world and then gives back.
AC: She shouldn't have survived really. Normally, a cat like that is put to sleep. It's a miracle that she is out there.
AKT: Bub is in the centre, but your film is also about the internet.
JE: We are so obsessed with the images of these cats. More so than any other animal on the internet.
AC: I can't wait to see the negative reviews. What's not to like? "I wish you were meaner to the cats?"... We cut Bub's big monologue about her life. Maybe we put it in the DVD extras. Everything I do is divisive. I usually make films where people go, "I can't believe that you've done this." But then I just keep going and going, and usually the positive comments overshadow the negative ones.
AKT: Will Bub be here?
JE: She is supposed to come to the premiere at Tribeca.
AKT: To the premiere and the Tribeca Drive-In screening?
JE: Yes, both. Bub is going to walk the red carpet.
AKT:
For the Drive-In, your movie is scheduled alongside Hitchcock's
The Birds
.
AC: One of my favorite movies.
JE: And Beetlejuice, one of my favourite movies. It's nice.
AKT: The animal kingdom - birds, cats, beetles, what more can you want?
JE: It's funny, though. They advertise it as the family events. I remember watching The Birds when I was six or something and being terrified.
AC: Is The Birds a family movie? I don't know.
Catch this film and Lil Bub in person at the World Premiere and read more about Bub and the film on the official site. Find out what Bub is up to on her homepage.
Share this with others on...