Michelangelo Frammartino's breathtaking 28-minute continuous cinematic installation Alberi
Photo: Anne-Katrin Titze
On a fresh sunlit afternoon, at the start of the Tribeca Film Festival, when April was at its least cruel, Artistic Director Frédéric Boyer introduced the world premiere of Michelangelo Frammartino's extraordinarily seductive 28 minute continuous cinematic installation Alberi at MoMA PS1.
"One of my interests is to try to define what beauty means today – not just normal beauty but absolute beauty, the kind you find in animals, especially in birds," Miuccia Prada stated in her 2012 Met Costume Institute exhibition Impossible Conversations. The intricate tree men could be sublime inspiration for her next collection. "In proportion as this frame is vague do I directly pay for the vagueness; in proportion as it is full and finished, do I gain, do I rejoice in the strength," said Henry James about his construction of What Maisie Knew. Meeting the creator of Alberi, I had a chance to inquire about the full frame and profound effect of his poignant installation.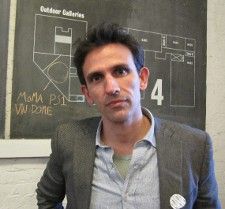 Based on the ancient legend of the tree-man Romito, about to disappear from memory in Italy's Basilicata region, Frammartino grandly devised a filmic möbius loop that guides the spectators from the foliage of the forest, over the fields, to a compact stone village, into the heart of vegetation, expected and wanted, while night turns to day turns to night.
Anne-Katrin Titze: Here we are in the hustle and bustle at MoMA PS1 with your reception about to start any minute. I just saw your installation and the atmosphere is wonderful inside the dome. People are calm and there is, for lack of better words, a generosity and kindness in the air.
Michelangelo Frammartino: On the screen? The image?
AKT: No, in the audience, watching it.
MF: Oh, I like this. I work on the connection of the human being and what is around. When you feel connected, you feel at peace in a way. I like that reaction very much.
AKT: It reminded me of the art installation here at PS1, James Turrell's Meeting (since 1986). You watch the sky at sunset, framed like a screen.
MF: I have not seen it. I was working all the time on our installation until this afternoon. [Since then, Michelangelo had a chance to see the work: "…thank you for having suggested [to] me to visit the James Turrell's room in PS1, it was a beautiful experience that I'll never forget."]
AKT: This is the world premiere of Alberi. Did you create it as site specific, with this location in mind?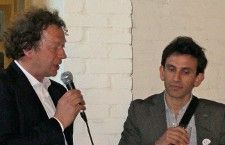 MF: When we made it we were not thinking of the dome, we were thinking of a space where people were free to go in and out, so not a cinema. We wanted to create a very free situation. In a cinema, you enter with the opening titles and you go out with the end credits. We wanted everyone to be free to decide when it's enough. They opened the dome two months ago for me to see if it's okay. I was worried, but in the end I said, you know, it's a circular work and the dome is circular. In the end I said, it could work. The sound was made specifically for the dome.
AKT: The sound is impressive on the outside too. I was having a conversation next to the dome with Frédéric Boyer [Tribeca's Artistic Director] and we were laughing, because we could hear the tree people coming. Stomping and chanting on their way to town. The sound works even without the images.
MF: I work a lot on sound in my movies. It's funny, because usually in cinema, image drives the situation. When you are shooting, in the crew there are four working on the image and only one for the sound. In my movies there are more people working on the sound. Usually, when you make a movie, you start with image, you close the story, you close all the different connections, then you start working on the sound. In my work, I use a sound editor for the image, so many times the decisions are made sound-wise and then comes the image.
AKT: You have some red pillows, but no seats in the dome. Did you discuss the seating possibilities?
MF: We decided to leave the possibility to lie down. And it works.
AKT: Now let's move from the location into the story. It's fascinating to watch something without knowing if what you are seeing is the reenactment of a myth, something created for this film, or a ritual that has been going on forever. How much do you want to say about that?
MF: What I can say is that I like that you cannot understand, that it is impossible to understand. What I can say is that the tree man belongs to Basilicata, to that small village Satriano. In the tradition it's a disappearing character. No one was keeping it on. I saw a picture of this man [who is covered in leaves and looks like a tree] and I thought, wow, it's wonderful. And I went to the village and they said to me, "Thank you for being interested. Can you help us and give life again to this character?".
AKT: So you decided to resurrect him? Was he alive in the oral tradition?
MF: Yes. They used to dress like this in the winter, going around. When I understood, I was free to invent with them, because we were working together, I decided to make not a lonely character but a collective character, like land art work. So I changed it with their help. And what is nice, now they are dressing again! This change gives life again to the myth.
AKT: The way you compose your images, it is hard to tell how many tree men there are. You think you know, and then suddenly a group of them is walking, all small in the background, for example, like a moving painting. I did notice a gender divide. The women are not becoming trees.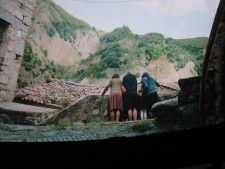 MF: In pagan and old tradition there is this division. The men do their thing and the women are waiting and prepare the food. What I like about this situation is, the women are human and are waiting for the vegetation. There is marriage between humans and vegetation. This was for me the idea.
AKT: Knowing that you can stay as long as you want in the installation and watch the loop, allows the mind to travel. I was drifting into memories of coming home on my bicycle from the forest as a child. And I remembered my grandmother waiting for me and how much I loved that waiting. Alberi has beautiful images of women waiting, which you don't see that much in 2013. It almost makes me feel guilty liking them.
MF: Now you made me think, when we arrived home, my grandmother always waited outside, not inside. She was in front of the door, that was her welcome. Now I remember. I had forgotten it. That's very strong. Thank you for that.
AKT: You put it in your film.
MF: I was not thinking of this. You made me think of this.
AKT: Daylight turns into night and into day again. Is there a point in your film that you see more of a beginning than others?
MF: For me, the story changes if you enter at one point or you enter at another. If you enter during the darkness, you see everything, that it's a ritual but if you enter when we are in the forest and see the creatures it's more magic, because in someway you think that they are fantasy creatures and they enter a village. So when you come in the darkness, the forest is a real forest, not magic. What I like in the darkness is that you are connected in a very strong way and I'm always working on connection. So in my movies many times there are darkness moments because you are connected with other people.
AKT: You make us re-appreciate darkness.
Michelangelo Frammartino's Alberi, presented by Istituto Luce Cinecittà was on exhibit in the VW Dome at MoMA PS1 during the run of theTribeca Film Festival and was chosen as an official selection.
Share this with others on...