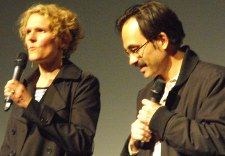 Melissa James Gibson and Phil Morrison (writer and director of Almost Christmas)
Tribeca kicked off on its 12th edition on Thursday night with Mistaken For Strangers, a documentary about rock band The National, directed by Tom Berninger. Most of the out-of-town journalists like me, however, joined the fray on Friday morning.
And three days in, many of the films I've caught - including Before Midnight, The Broken Circle Breakdown, Almost Christmas, Bluebird and Dark Touch - have had a parenthood theme. Richard Linklater's Before Midnight catches up with Jesse (Ethan Hawke) and Celine (Julie Delpy) at the point where they are parents to twins, in addition to being an occasional stopping off point for Jesse's son Hank (Seamus Davey-Fitzpatrick). Their thoughts on parenthood and the challenges that it brings are the engine of this touching and often funny film, a symbol of their love for one another but also objects of contention.
The Broken Circle Breakdown, meanwhile, tracks an unlikely couple as they try to cope with the illness of their daughter. Felix van Groeningen's impressive film - which uses bluegrass music as an integral part of the action - recalls the musicality and tenderness of Once, while its structure, flipping forward and backwards in time is reminiscent of Blue Valentine - though as far as I'm concerned, it is more successful than either of those other films.
Parental problems are also the motivator for much of the action in Almost Christmas, Phil Morrison's long-awaited follow up to his remarkable debut Junebug. The bittersweet film sees Grinch-like Dennis (Paul Giamatti) learn a few lessons in selflessness after he is freed from prison to find his wife (Amy Landecker) has told his daughter that he is dead and begun a relationship with his erstwhile partner in crime Rene (Paul Rudd). When Dennis and Rene head to Brooklyn to sell Christmas trees, this kinda funny kinda sad and ultimately touching film sees both of them learn a few life lessons thanks in no small part to Russian housekeeper Olga (the ever-wonderful Sally Hawkins). Two days later, I'm still humming Graham Reynolds' fabulous jazzed up Christmas carol score, especially his variation on Hark The Herald Angels Sing which punctuates the film.
Speaking after the film, writer Melissa James Gibson said the reason she wanted to write the film was "to give Phil something to direct."
She added: "I was fascinated by Christmas tree salesman and I wanted to imagine a world for them."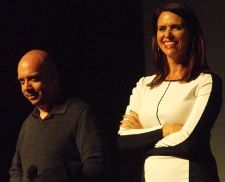 Revealing how he prepared for the roll, a now shaven-headed Paul Giamatti - who acts from beneath the biggest set of mutton chops imaginable in the film - said: "I spent months and months growing that beard. I have more hair on my face than any human being ever should have. I didn't have to spend any time in a Canadian prison, I haven't had to do that yet in my life."
Asked about a specific moment in the film when Giamatti does a forward role and lands in a tyre, Morrison turned to him and said: "I believe our preparation for that was you saying, 'Watch this.'"
It also turns out that the residents of Brooklyn are nothing if not ready when it comes to Christmas. When an audience member asked if anyone had tried to buy trees from the set, mistaking Dennis and Rene's stall for the real thing, Morrison said: "It was April."
But after prompting from a member of his crew in the audience, he added: "The art department says some people did try to buy the trees... forward-thinking New Yorkers."
It was back to the parent issues on Friday - although this time of a much less salubrious sort - in Irish horror flick Dark Touch. Sadly, French director Marina De Van's attempt to explore child abuse through the usual genre trappings is a misfire, playing out like a substandard riff on Carrie when a young girl with telekinetic powers takes revenge on her abusers. With a stilted script, some terrible acting in the early scenes, overblown styling and gaps in logic, it's a shame that the interesting kernel of an idea lying at the film's heart isn't explored as well as it could have been. One key scene, probing the idea of abuse passing down from generation to generation is the film's strongest moment - and would have been a great hook for a 15 minute short - but its insufficient to sustain this feature.
Finally, in the parent department, Bluebird takes us on a downbeat exploration of guilt and remorse in small town America in the spirit of Snow Angels and Angels Crest, after a mum who works as a bus driver makes a terrible mistake. Well-structured and written and with excellent performances by Amy Morton, John Slattery and Louisa Krause among others, I'm not sure it will easily find an audience outside of the festival circuit, simply because of its downbeat bleakness. But there is no denying Lance Edmands has talent.
Share this with others on...