Tribeca Film Festival Best New Narrative Director Emanuel Hoss-Desmarais wins for his chillingly unique snow thriller Whitewash starring Thomas Haden Church and Marc Labrèche. Northern Quebec is the setting, and winter turns out to be more than it seems. We had a chance to talk about cold weather and cold hearts.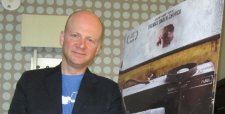 Anne-Katrin Titze: The weather is unbelievably vivid in your movie. The snowstorm at the beginning is killing the audience already. Did you start out with wanting a setting that cold?
Emanuel Hoss-Desmarais: The idea was an homage to our incredibly harsh winters. And from the beginning it was a concert decision to start the film with a punch - in terms of dramatically with an accident but as well to have this in a violent snow storm. We worked a lot on developing the grittiness and harshness of our winters. The winter was one of the four main characters in our film. We have Bruce (Thomas Haden Church), Paul (Marc Labrèche), and the plow becomes a character. But winter was definitely one of the main characters in the film. So we had to depict the winter in its strongest element from the get go.
AKT: How did you work with your stars? Thomas Haden Church told me that he improvised some of the hilarious burger scene. Did you script exactly when they were allowed to improvise and when they didn't?
EHD: Tom and I spoke a lot before we started and we decided to figure out the tone of this. The film on paper had obviously its dramatic tone but at the same time there were some odd snippets of humor already. I knew Tom had both of those elements. He was able to go into the more dramatic places and he was a very funny guy as well. So we knew, this is a drama and we are not going to play it funny, but we can allow ourselves to go into these territories once in a while. We were fine-tuning while we were shooting.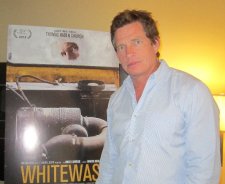 AKT: Winter provides an obvious threat, the other menace comes in a much subtler way, through the character Paul, for example, when he says "I think I am going to stay another night." It's a turning point in the movie.
EHD: You are right, it's an interesting way of putting it. Although the winter is very menacing, everything else kind of creeps into him and onto him. Marc is definitely playing a very seedy guy, not able to grasp where he is going and what he wants. We wanted to pity him and find him disgusting at the same time. A lot of things slowly creep onto him in his head. A lot of the things that eventually get the main character are his own demons, his own guilt.
AKT: You gave his dead wife the profession of making dolls' eyes, which made me think of E.T.A. Hoffmann's The Sandman and gives the story a flair of German Romanticism, too. On another note, the costumes your sister [the costume designer Myriam Hoss-Desmarais] picked for Marc's character are of quite another gothic quality [see interview with the actors of Whitewash].
EHD: This is awesome. You are the second person to say that and I rarely get those comments. I love it! We worked a lot on finding the right look and Myriam did a great job. To me that costume is sad and disgusting at the same time.
AKT: You contaminated the actor Marc Labrèche with these costumes. He really deserves nice clothes in his next film.
EHD: The other person who mentioned the costumes was a Belgian director friend. He loved the film and it was the second thing he said to me. He said "wow, what a weird world you created and I love that costume!"
AKT: You lightly touch on the theme of racism. One comment, one snippet that stands on its own. In your film you don't overdo sending messages to the audience.
EHD: We had very little opportunity to create background for the two characters and so we really knew that we would have to put all the drama in the flashbacks. Being alone with this guy - yes we do connect with him in a certain way but not in a sentimental way. In the flashbacks we had to create who these people were. We didn't want to establish these people with vistas of where they lived and see wide shots of their neighborhood. We had a conversation between two men in a living room to understand where they are from. Obviously how they are dressed, how they look - we had to understand that they are two low-level individuals, more sad than mean. It was more to explain that these people aren't very educated, aren't traveled, they don't lead the life that I do.
AKT: Or the life of the audience at the Tribeca Film Festival.
EHD: Right, and I love those characters although they say stupid and repulsive things, I really get attached to these people.
AKT: As you just said, it is the lack of education, the lack of opportunities that makes them this way. It is not their choice to live this way. You deal in a very interesting way with the choice concerning the wilderness. The world your character creates in the icy forest is visually more beautiful than the place he comes from, but you do not sentimentalize that fact.
EHD: No, it was important for us. It's his prison and you are right, it is idyllic. He realizes that he is not more comfortable anywhere else in the world than just right there.
AKT: It didn't cross my mind while watching Whitewash, but talking to you now, I see some parallels to Beyond the Hills, Cristian Mungiu's exorcism film that takes place in a convent in a very snowy Roumania. At the press conference for the New York Film Festival Mungiu made a similar point. The lack of education and the poverty give people very limited options.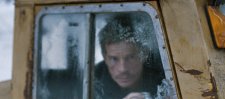 EHD: I love his work. He is a very talented director. I haven't seen this one, yet.
AKT: The fourth character in your film is the snowplow, you said. Do you drive one?
EHD: Although it's not the main character in the film, he was the first character in the film. This is where the idea came from. These snowploughs become characters in our winters because they're everywhere in the city cleaning up our sidewalks. And every year you have one or two stories about a driver drinking on the job or driving too fast or hitting a poor woman. They become present in our winter life. So how could we make a story around this? And then we created the story about Bruce and his ordeal, but then we slowly realized how cool it was going to be if the object, the weapon of his crime would end up being his shelter, what he depends on. How could someone need the object of his crime to survive? He transfers his guilt onto the machine through time and develops an unpleasant relationship to him, and ends up being in peace with this character.
AKT: A word about the title?
EHD: It's the idea of this guy's life being basically whitewashed, and the snow, of course. I think it's the perfect pick for a winter film.
AKT: It should be screened in the summer. People could it enjoy it even more without being cold themselves.
Share this with others on...