I had a chance to speak with Mariel Hemingway and two-time Academy Award winning director, Barbara Kopple on the red carpet and following the Tribeca Film Festival special screening of Running From Crazy at the Clearview Cinemas Chelsea. The name Hemingway, like Kennedy, triggers immediate emotions.
Anne-Katrin Titze: You said your film was a tale of three sisters. That sounds like Chekhov meets Dickens through the Hemingway family? How much did the literature of the grandfather [Ernest Hemingway] influence the film?
Barbara Kopple: It does. It does because of his creativity, but it also does because of his vulnerability. I think, more than anything else, this is a very intimate portrait of transformation and hope.
AKT: You have the strong masculinity in the grandfather and the three granddaughters - all of them struggling with image issues and more.
BK: The sisters have their own power. Mariel Hemingway, although she has taken a different route, she climbs mountains with her bare hands, she plunges into water. She still has that rush of adrenalin and risk taking that her grandfather had. She challenges it in a different way.
AKT: Is that also an aspect that made you choose this dynamic title?
BK: Yes, Mariel came up with that title. She was in a support group for women whose children or spouses had committed suicide. And she just looked at them and said, you know, "I'm always running from crazy."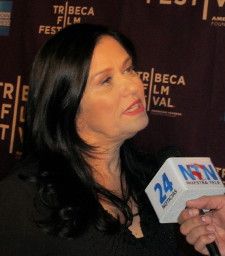 AKT: Is it ever a running from the name Hemingway?
BK: No, they have the name and they wear it proudly.
AKT: The opposite maybe? Running towards the name?
BK: Running towards the name and running away from what the name means in some circles - ending the cycle of violence and abuse.
The family is considered American royalty, a myth that belongs to the public. In the case of the Hemingways, images of bullfighting and fishing shine through to layers of partying at Studio 54, and glamorous modeling.
Anne-Katrin Titze: Mariel, Barbara said the title came from you, can you explain the dynamics of your running?
Mariel Hemingway: Now I'm running with crazy [she points at her partner Bobby Williams standing right next to her]
Bobby Williams: I did not break the car, remember? [He refers to a scene in the film in which their car breaks down, among other things] She did it!
MH [to me]: See? Anyway, a friend said to me, you've got to make this movie about your family. And I said, are you crazy? My family is crazy! And she said, that's just the point. I didn't know if I was ready to do this because I've been running from it my whole life. What's really wonderful about this film and this full circle is that I'm really just living my life now.
AKT: It looks as if you are not running from, but running towards something.
MH: I don't feel like I'm running from something and I think you are correct. I run to healthy life, to embracing who I am, embracing my family. What Bobby and I have created is a business called Running with Nature, which is all about a positive healthy outlook that this film so brilliantly brings up. She [Barbara Kopple] did such a wonderful job - it's a piece of art, I think … There were things that I discovered about my family that I didn't even know. And there are also things that I hadn't shared with my daughters [model Dree Hemingway and youngest daughter Langley who both are part of the film] out of fear... The film has been a total catharsis for me.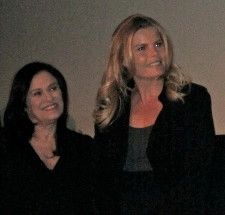 The impact the documentary had on the Hemingways is visible. Previously unseen footage from 1984 of Margaux Hemingway , Mariel's model sister who committed suicide in 1996 at age 42, shows in startling openness the complicated family dynamics.
BK: We found 43 hours of film of Margaux and I never told her I had it. So when Mariel would tell me stories about her mother sitting on the kitchen shelf with her feet in the sink at "Wine Time", we would look and find that footage and really authenticate it. So when Mariel saw it for the first time, at the beginning, you were very emotional. And she said "Now my children will see who their grandparents are." For us it was a film about the future, about breaking the cycle and ending the silence.
MH: I would say these things about "Wine Time" [the daily ritual of the family drinking in the kitchen before preparing dinner] and my mother sitting on the counter and the color of our kitchen. And when I saw it, I was like, oh my god I wasn't making it up, we really did have yellow cabinets. It was really that ugly. It was just so shocking to see my family. Also for me, I had made my mother happier in my mind and I could see how sad she was and how depressed she was. I knew that my sister was unhappy and suffered from depression and other things but I didn't realize the depth of it until I saw the footage. After that, I had so much more compassion for her journey. It took me having to see it from the outside looking in to really understand the amount of pain she was in her whole life. I never understood that. I was much more judgmental.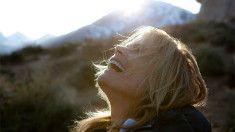 Barbara Kopple's revealing documentary is less interested in the myth than the traumas, fears and internal demons that haunt the clan. The film begins with a mother/daughter photo shoot for Town and Country in the lush Idaho countryside where Mariel grew up in the house where her grandfather Ernest Hemingway committed suicide.
Share this with others on...