caption="Em Cooper's animation was 'like Cinderella's shoe', a perfect fit for Kiss The Water"]Poetic documentary Kiss The Water had its premiere at Tribeca Film Festival. Although on its surface, the film is a consideration of eccentric Scottish fly maker Megan Boyd, its currents also carry an elegy to the art of fly-making itself and wistful tribute to the sport of salmon fishing in general. When I caught up with documentarian Eric Steel to talk about the film, he told me "the stories are so parallel and connected".
His journey into the world of Boyd's began - as does his documentary - with her obituary in the New York Times. Steel says he spent years imagining Boyd's life and his desire to encourage the audience to create their own picture of the woman is one of the reasons he doesn't use actual footage of her until the end credits.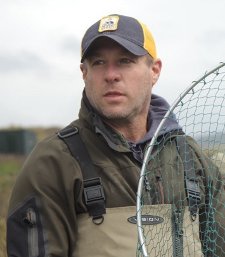 "When I clipped her obituary, I know there was a picture there, but I didn't clip that out, I took the words and put them on the wall," he said. "So there was a long period, from 2001 until when I started working on this when her image was never really part of my thinking of how the story developed. It really was something that was going on in my imagination. I imagined her. I wanted the audience to have to let go and step into the world and the stories in the same way that a fisherman steps into a river and I really wanted them to be a part of it without having a playbook. That's the conundrum about all human stories, once you see them you can make a snap judgement about who people are."
He added: "The idea of me the obituaries and letting my mind wander into another world that I had never been into was very much like the fisherman.They go out on these journeys and part of it is just escape, letting their mind wander from their everyday lives into this other world. I liked this sort of parallel between my experience and their experience.
"They were fishing for something and I was fishing for something. I was trying to get to the bottom of something and get beneath the surface to understand something I couldn't really see. In a way, the fisherman is also me, we're a little bit the same. Then there's that great line in the movie when one of Megan's apprentices says Megan said to him, 'You don't make the flies to catch the fish, you make the flies to catch the fishermen.' In a way, her work caught me in the same way it caught them."
The fishing metaphor runs deep within the film and Steel is also keen to emphasise its fairytale aspect. Although on the one hand, locals in Brora, in north eastern Scotland, who knew Boyd offer anecdotes about her life and clues to her character, the film also creates a sort of fantasy dream life for Boyd through the beautiful, flowing animation of Em Cooper. In doing this, Steel and Cooper draw specifically on stories involving Boyd and Prince Charles, who literally came knocking at her door in search of some of her world famous craftsmanship.
"I really do believe that almost everybody wants to have their life to read like a fairytale and I think it's why we identify so much with fairytales," says Steel. "So much of the metaphor of making flies was like the girl in Rumpelstiltskin who is turning straw into gold.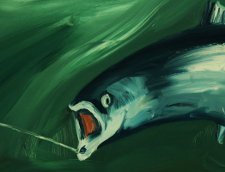 "It was always a dialogue between the fairytale version that I read in the obituary and the real thing. You read an obituary and you think that it's news, it's truth but at the same time I also knew that it was a story. I was trying to find a way to create a dialogue between the truths and the fairytales. I think it works in a lot of different directions. Even the fly tying, which is so factual and so microscopic, when you see that and then these animations, which are clearly fantasy, I think it creates a dialogue. There is a truth to all this but there's also a story to it. We're sort of in between, I think reality is somewhere in between those two.
"All those fairytales involve some sort of magic in the beginning, which [in the film] is her [Boyd] following the blue tern underwater and discovering a whole new world. It's beautiful and scary, which the underwater world is. I think it involves this idea of transfiguration. She believes in the salmon making its journey around the world just to come back for her. And in every fairytale, the end result is the prince comes. The odd part was that in her real life, she was just working in her cottage and spinning these flies and one day Prince Charles pulls up unexpectedly. And suddenly her real life and her fairytale fantasy life kind of alternate and I understand, I know how in those moments, you can have a hard time distinguishing between the real and the non. I think the mania of Diana's wedding to Prince Charles and all the intrigue of what was happening... I mean, they really were in Megan's tiny hometown, that's where Charles taught Diana how to fish. So you can see how the threads begin to come together."
When it comes to the animation itself, finding the right artist for the collaboration was no easy job and Steel reveals he tried out two more animators, with considerable more experience than Cooper, before deciding that she was the perfect one for the job.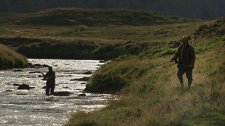 "It was like Cinderella's shoe," he said. Cooper's work itself is a mixture of filming and artistry. "It's sort of rotoscoping and painting, so it's quite labour intensive," said Steel. "I love the idea that we filmed it. She filmed it and I filmed it with her, together, so it has an underlying consistency with the film. I think the fact that it's painted on film means it's not an illustration, it's like a painting of life. It has that sort of dream world. Each frame is painted one at a time. The other thing I love is that, in order to do this, Em had to become Megan. A lot of those shots where you see a woman swimming or moving, it is her [Cooper] so I think she had to engage with the character in a way - almost like I got to work with an actress. And I think it shows. There's a lot of emotion."
It's that emotion that the the spirit of the animation really catches, with its swoops of paint carrying along the viewer. And it is the marriage between the real and the imagined that interests Steel.
"It goes back to this idea of me having to imagine Megan's life," he said "I think one of the connections between this movie and The Bridge [his 2006 film exploring Golden Gate Bridge suicide] is that most people when they think about other people, even those they're very close to, they have a hard time gettting underneath the surface of what is going on in people's minds. Almost every story people told about Megan was, 'She loved making flies, she was this eccentric character, she loved her country dancing and she was quite a presence on her motorbike.' But I think people have never really tried to get beneath the surface of what her life must have been like.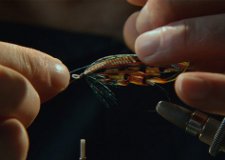 "I spent a lot of time in her cottage, which is falling down and pretty decrepit. But it had no electricity, no running water, no telephone and when you think about what that kind of life is like, where you aremaking flies all day long, you start to realise she had to find a way in her own mind to keep herself occupied. In northern Scotland, in the winter time, when she's not really making many flies, it's practically night - you have daylight from 10am to 3pm. So I just imagined her dream life. I know it goes against almost every rule of documentary filmmaking. I wasn't re-enacting stuff that people had told us or dramatising things that had happened, I really was inventing a story for her. A dream life for her that I think has the same relationship to reality that most dreams have. I tried to thread information and pieces of story within them."
Steel is, in part, referring also to the threads of the flies themselves - delicate creations with evocative names such as Jock Scott, Durham Ranger and Silver Doctor - that the film shows being carefully crafted out of feathers and fur.
"There're the idea that it [fly-making] is here today and if I didn't film it it could be gone tomorrow," he said. "They really do make flies with little globs of superglue and fur and feather and spit them out now. The artistry and the magic of them is really a dying art. That's one of the things that I loved about it. Just the names of them sounded like magic spells or something out of Harry Potter almost. You could see the act of making one was almost like a magician taking a magic wand. And the idea you could take a strip of a feather from a toucan and a strip of a feather from a blue chatter and strip of a feather from a swan and somehow almost zip them together on this microscopic level... I had no idea."
So what about Steel's own dreams for the future?
"I have some other projects that I'm working on. I would like to do more documentaries - I love them and I feel privileged to make them. I think I'm going to try to do a narrative next. It relates to some of the themes that I've been exploring in the documentaries. More about the idea that what you can see on the surface about someone and what you can't. Also the interior/exterior and about art and artistry. It has a lot to do with water and light, it feels like metaphors I'd be comfortable with."
Water, light and metaphors are key to Kiss The Water, a film that invites you to dive in.
Kiss The Water will have its European premiere at the 2013 Edinburgh International Film Festival.
Share this with others on...