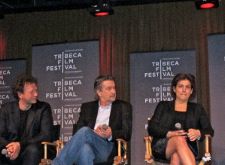 On April 18, 2012, Frédéric Boyer announced at the Tribeca Film Festival opening media breakfast for his inaugural year as Artistic Director, that he wanted to have more "World Premières" as he did when he was heading the Directors' Fortnight program at the Cannes Film Festival. In 2013, he has succeeded triumphantly with the MoMA PS1 collaboration for Michelangelo Frammartino's Alberi and other innovative approaches to cinema, like Paul Verhoeven's latest film Tricked (Steekspel), which was presented in the Tribeca Talks After the Movie series. I asked Verhoeven at the North American premiere about the birth of his DADA Dial M For Murder moment and got an answer that revealed the process of the unprecedented script collaboration. Eric Steel's devastatingly luminescent Kiss The Water also had its world premiere at this year's festival. The documentary about a Scottish fishing fly-maker transforms itself into an animated underwater dance with salmon and mermaids. While royalty loses some of its magic, Temple Grandin's ideas about respect towards animals and a rethinking of killings might enter your head. How to change what we dream about, is a vital inquiry.
We continue with our conversation on Frédéric Boyer's vision for the Tribeca Film Festival and how location and the spirit of place inform it.
Anne-Katrin Titze: You were at Cannes before.
Frédéric Boyer: Yes, speaking of seaside, it's totally different with all these buildings in New York. So it's good to see something at PS1 in Queens, you see Alberi and you go outside. Sometimes going outside after a film, you're not sure you liked the film but two days later you think, oh, maybe there was something interesting. Alberi, of course, is an immediate experience, but also you can be thinking about the Alberi when you are walking, you have the sound. It felt like a dream and the dream is coming onto you again.
AKT: Alberi is the first collaboration with MoMA PS1 and Tribeca. How did you connect with Michelangelo Frammartino and his work?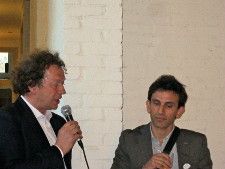 FB: I know Michelangelo from his previous film, I invited Le Quattro Volte in 2010 to Cannes. But you know, setting up a cinematic experience in this dome is not easy at all. We needed to bring the sound designer, we needed to get the best projector, everything is technically tricky, but now it's perfect. He has been making this film over two years, doing this is a lot of organisation, it's an extraordinary effort. So thank you to all the technicians that made this totally perfect.
AKT: The room has a great atmosphere.
FB: It does. You go in, you lie down and you are not talking about cinema - because we are talking about something different.
AKT: You almost want to bring your cat!
FB: Yes, yes, you want to bring the cat. But your cat is lost in the dark!
AKT: I talked to the scientist [Dr. Jeffrey Bussolini] who was on the red carpet for Lil Bub. He is the Director of the Center for Feline Studies/Feline Interaction Laboratory and he mentioned that cats like to join humans to do yoga.
FB: Oh, I didn't know that. That's fascinating. I think it's good for people not to just focus on something big. Something like Alberi is totally unique. It's live, it can't be watched on DVD, it's like a concert. I really like the connection between music and live cinema.
AKT: You are fostering new experiences of cinema.
FB: It's questions. Michelangelo Frammartino is questioning the future of cinema. What can we do tomorrow? I don't know.
AKT: MoMA PS1 - a former school turned art space is the perfect location to ask these questions. For some people, "cinema people", who never enter a museum or a performance space, this might be an introduction.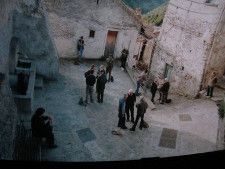 FB: Absolutely. I've been watching people come and go for the past two hours and the audience is very young, which is good. You know, the forest is dying and the visuals of Alberi, is a costume of trees and leaves. And it's Tribeca and PS1 and people say "hey, let's watch this!" Michelangelo Frammartino is doing film for everybody. This is not an intellectual cinema. It's a popular cinema. You don't need to know anything. Bring your child - it's something different.
AKT: Are you planning to continue with out-of-the-screening-room cinema next year?
FB: This is a World Premiere. It's not playing at other film festivals, it's at Tribeca first. I would love to do something again with the PS1 but we need to find a new idea. Something different. Something totally different.
On April 23, at the SVA Cinema, Frédéric Boyer introduced the Tribeca Talks After the Movie following the screening of Paul Verhoeven's Tricked, his latest film created with what was called a "mass-produced script". The screenwriters are credited as Kim Van Kooten, Robert Alberdingk Thijm, Paul Verhoeven and 397 participants. From a scripted four minute long beginning, nobody knew how the movie would continue, as the plot was assembled by Verhoeven depending on what the public was sending in. I asked him about his decision making for pivotal scenes:
Anne-Katrin Titze: What you call your Psycho moment, which could also be called a DADA Dial M for Murder moment - when you read that in one of the ideas sent to you, did you know immediately that this would become a central part of the film?
Paul Verhoeven: Not at all! It came in early on, for the second episode. After seven minutes or so into the movie, this would already have happened. And this was not really how Kim Van Kooten [who set the tone with the first four minutes] had set it up. So I dismissed it immediately. I threw it out, you know. And then I put a red line underneath it, because I thought it was interesting. And then later, when we came to episode six we were looking for [a solution for finding something out], and suddenly that jumped into my head. And then we started to write that scene this way. I felt I could do that because it had anyhow been proposed by one of the users. That person who wrote it had the weapon as an ice pick, in fact, thinking of my Basic Instinct. I changed it to scissors and gave it to my favorite character, the woman who takes adultery for granted. I like that kind of woman.
Michelangelo Frammartino's Alberi, presented by Istituto Luce Cinecittà, will be on exhibit in the VW Dome at MoMA PS1 through Sunday, April 28th and was chosen as an official selection of the Tribeca Film Festival.
Kiss the Water screens at the Tribeca Film Festival on Saturday, April 27, 7:30pm Clearview Cinemas Chelsea 9 - Sunday, April 28, 7pm AMC Loews Village 7-2
Share this with others on...