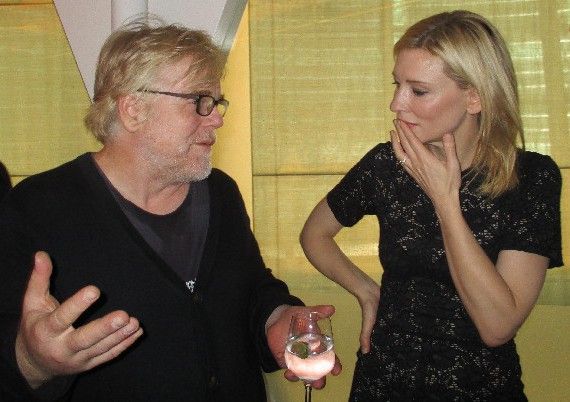 Philip Seymour Hoffman has Cate Blanchett's attention
Photo: Anne-Katrin Titze
In less than 24 hours,
Blue Jasmine
star, the incomparable Cate Blanchett, was honoured with a
New York Film Festival
gala tribute at Lincoln Center and a Sony Pictures Classics luncheon at Le Cirque. Blanchett was celebrated by friends and colleagues including Alec Baldwin, Woody Allen, Bobby Cannavale, Philip Seymour Hoffman, Marina Abramovic, Klaus Biesenbach, as well as Jim Jarmusch, whose Only Lovers Left Alive, starring Tilda Swinton and Tom Hiddleston has its US Premiere at this year's festival.
At the luncheon organised with style by Peggy Siegal in celebration of Woody Allen's latest film last Thursday, Sony Pictures Classics presidents Michael Barker and Tom Bernard toasted the actress.
Cate Blanchett arrives at New York's Le Cirque for Sony Pictures Classics celebration of Blue Jasmine
Photo: Anne-Katrin Titze
"We're all here for the sublime Cate. Thank you for everything and you're such a sublime actress, from film to film, from stage play to stage play, " said Barker, who also congratulated Blue Jasmine co-star Bobby Cannavale (who plays Chili) for his recent Emmy win.
Apropos Emmy and sublime - right before the luncheon began, I caught up with Marina Abramovic, in sublime eye makeup ("it's my great Pakistani make-up artist"), whose film Marina Abramovic: The Artist is Present (directed by Matthew Akers) won the award for Best Documentary at the 34th Annual News & Documentary Emmy Awards two nights earlier. "We should make another film," she said to me and Director of MoMA PS1 Klaus Biesenbach who nodded approvingly without saying a word.
After the dessert course, Le Cirque's delicious crème brûlée, I talked with Blanchett about Ibsen. "I haven't done Ibsen in such a long time," she said and told me how much she appreciates his "absurd quality". We discussed the split in his female characters, and I complimented Blanchett on how perfectly she plays "women cut in two," feeling a bit like a director in a Hong Sang-soo movie, only that I was completely sincere. Blanchett is planning to direct her first film The Dinner, based on Herman Koch's best-selling 2009 novel.
MoMA PS1 Director Klaus Biesenbach, Marina Abramovic and Cate Blanchett at table number five
Photo: Anne-Katrin Titze
Philip Seymour Hoffman, who worked with Blanchett in Anthony Minghella's
The Talented Mr Ripley
, her longtime CAA agent Hylda Queally, actors F Murray Abraham, Dana Ivey, Celia Weston, along with Film Society of Lincoln Center's Executive Director Rose Kuo, were among the guests enjoying lunch under the golden umbrellas of Le Cirque on a balmy Indian summer day.
Chatting about movies with Abramovic, I brought up her inspired choices of favourite films at Le Conversazioni literary festival at the Morgan Library and Museum this May. Abramovic had picked Sergei Parajanov's The Colour Of Pomegranates, Pier Paolo Pasolini's Teorema, Last Year In Marienbad by Alain Resnais, and Lars von Trier's Breaking The Waves.
At the luncheon, I couldn't remember if she or architect Daniel Libeskind, who had also been part of the programme, had chosen Teorema. "That was me. Teorema is always me," Abramovic said and mentioned that since then, Libeskind had become a good friend. We talked some more about Von Trier's take on The Little Mermaid, the perfect segue to Cinderella, which is the reason why Cate Blanchett had to rush back to London. "Oh, I'm not Cinderella. I play the Evil Stepmother," Blanchett corrected a guest's inquiry about the live-action version of the fairy tale she is currently filming under the direction of Kenneth Branagh.
Blue Jasmine co-star Bobby Cannavale under the golden umbrellas of Le Cirque
Photo: Anne-Katrin Titze
Rose Kuo stated for the Gala: "In the year that many critics are hailing her most recent - and perhaps greatest – performance (in Blue Jasmine), the Film Society is delighted to celebrate the career of Blanchett. Since her breakthrough in Oscar And Lucinda in 1997, Ms. Blanchett has consistently mesmerized audiences with some of the boldest screen performances of the past 20 years, with roles as diverse as
Queen Elizabeth I
and
Bob Dylan
."
At the tribute at Lincoln Center, Festival Director Kent Jones discussed Blanchett's impressive career. Blue Jasmine co-star Alec Baldwin (Hal), Jim Jarmusch, who directed her in Coffee And Cigarettes, and the festival audience celebrated her talent, while Woody Allen sent his greetings via video: "I'm sorry I couldn't be there tonight, but I find it impossible to sit through two hours of relentless adulation, especially for somebody else."
On Wednesday, October 9, Ralph Fiennes will be honored with a gala tribute at the New York Film Festival, as his film The Invisible Woman screens at Alice Tully Hall. Read more about what Kent Jones said regarding the tributes here.
Cocktails at Le Cirque to honour Cate Blanchett with Sony Pictures Classics presidents Michael Barker and Tom Bernard, Celia Weston, and Dana Ivey in conversation with Bobby Cannavale
Photo: Anne-Katrin Titze
Share this with others on...