JC Chandor with Robert Redford (Our Man), who decides to shave
Photo: Anne-Katrin Titze
Robert Redford and Bruce Dern in 1974's
The Great Gatsby
were battling over F Scott Fitzgerald's Daisy Buchanan. At this year's
New York
,
London
and
Cannes
film festivals they battle their demons on land and at sea respectively in Alexander Payne's
Nebraska
and JC Chandor's
All Is Lost
. Another grand ageless man, Shoah director Claude Lanzmann, gives us a powerful look at The Last Of The Unjust, his film about Theresienstadt Elder Benjamin Murmelstein, whom he interviewed in Rome in 1975 and whose statements about Adolf Eichmann and the conception of Theresienstadt need to be heard.
All is Lost
Hardly any words are spoken. Robert Redford as "Our Man," is alone at sea on a sinking ship after a floating container carrying a freight of sneakers rams his sailboat. At the New York Film Festival press conference with Redford and writer-director JC Chandor they were asked the "big question" if actually "all was lost". I had the last question, so all was not lost.
Robert Redford: 'Shaving in that crisis moment was an intent of the character to realign himself.'
Photo: Anne-Katrin Titze
Anne-Katrin Titze: "After a big question, I have a small question. Right before the storm arrives, Our Man decides to shave, which is a wonderfully endearing moment. What did you think about this shaving when you first read the screenplay?"
Robert Redford: "I liked the authenticity about it and I wanted to understand it. When I got to understand it I really liked it a lot. I'm sure a lot of people find it weird. What I liked about it was that the character is confronted over and over again with the choice of either panicking or dealing. And sometimes to avoid that, you try to reduce yourself to as much normalcy as possible. You try to be as normal as you can, even if it seems weird or odd.
"Shaving in that crisis moment was an intent of the character to realign himself. To keep things as normal as possible with shaving in that context. I like that and I like the idea also that overall thematically, for me, this film satisfies a larger philosophical question. That at certain points when things seem impossible, when all is lost, there's no chance to survive. All the odds are against - when you look forward you see no positive content so you give up. In other moments, you just continue, there's no other reason. You just do. Even with the odds against, you just do. I felt this film had that. The character had to deal with it."
The Last Of The Unjust
Claude Lanzmann: 'I act in the film in two ages of my life.'
Photo: Anne-Katrin Titze
"I think this festival is completely Prussian, militaristic," Claude Lanzmann, half-jokingly and hungry said to festival director Kent Jones at the screening of his outstanding almost four-hour long film at Alice Tully Hall.
When asked why he went back to the footage he filmed in Rome in 1975 of Benjamin Murmelstein, the last surviving Jewish Council Elder of Theresienstadt, after so many years, Lanzmann responded: "Because it is not an extreme pleasure to work on this. For me, I had enough difficulty with Shoah. If I had to work several years on this, The Last Of The Unjust… I hoped that I could succeed to rehabilitate this man Benjamin Murmelstein because I think that he is a fantastic man, highly intelligent, highly honest.
"What he had to say about the Eichmann trial in Jerusalem is very important… They were completely ignorant. They mixed up the names, the places - it is a shame this trial. He is the first to say this in my film. All the dialogue with Murmelstein was from 1975. The other scenes are from now. I was involved in the making of Shoah for 12 years. Murmelstein was the first man I shot. I started with it… but he could not fit in with Shoah. The general tone of Shoah was epic. This is not epic."
Anne-Katrin Titze: "Were there surprises when you revisited the footage? Did you remember certain things differently after so many years?"
Claude Lanzmann, with Kent Jones, half-jokingly and hungry said: 'I think this festival is completely Prussian, militaristic.'
Photo: Anne-Katrin Titze
CL: "This gave me the strength to do the film. When I saw the rushes, I decided that I was the only one able to do it, or do it in such a way that I don't betray him and that I don't betray me. It was very difficult. The trick was, I needed quite a lot of courage in one way to be myself in the film. I act in the film in two ages of my life. When I am young, I am 50 - now I have no age whatsoever. And I can prove it to you!"
Nebraska
Alexander Payne, who said he "didn't want to follow Sideways, one road trip movie, with another road trip movie," waited not quite as long as Claude Lanzmann to put his project on the screen. The Descendants with George Clooney did not shy away from showing all the ugliness of a Hawaiian paradise lost. Nebraska is a departure into beauty for Payne - the landscape, the small-town roads, the traditional, if crumbling American houses of porches and spires summon movie images of the past, the land, and give the film a glow his previous archives of humanity did not show.
Alexander Payne: "From the moment I read the screenplay [by Bob Nelson] many years ago, I always saw the movie in black and white. I can't really say why, it just felt right. I knew it would have to be a relatively inexpensive movie. They are hard to get made through the studio system. And how does it help storytelling? It's just so darn beautiful.
"Everyday the DP [Phedon Papamichael] and I would look at each other and say, 'How could we possibly go back to color?' Our great film heritage is in black and white. Not only that, it was my first CinemaScope picture. I had shot widescreen before, but only super 35. My first time using old CinemaScope lenses, and that was a treat, too."
Alexander Payne checking out a tool of the trade
Photo: Anne-Katrin Titze
Bruce Dern, who compared the film to "watching a moving scrapbook of Ansel Adams photographs", said about his director: "He's a guy who insists you work with him, and he is so approachable and so natural and so insistent on reality and being honest. He surrounds you in every scene with two or three non-actors who are so goddamn honest you can't possibly start acting or performing in front of these people."
Will Forte, who plays Dern's son [David] interrupted: "I would like to stop being referred to as a non-actor."
Alexander Payne and Bruce Dern were also in New York taking part in MoMA's To Save and Project: The 11th MoMA International Festival of Film Preservation. Payne introduced 10 Rillington Place (1971), directed by Richard Fleischer, starring Richard Attenborough and John Hurt. Payne's Carte Blanche selection also includes John Brahm's Hangover Square (1945), Edmund Goulding's Nightmare Alley (1947) and Jacques Baratier's Goha (1958), starring Claudia Cardinale and Omar Sharif.
Chantal Akerman Presents Two Films from 1970s New York - Hotel Monterey (1972) with La Chambre (1972), which will be introduced by the filmmaker on Friday, October 25 at 6pm and News from Home (1977) at 8:15pm.
The 11th edition of To Save and Project is organised by festival co-founder Joshua Siegel, Associate Curator, Department of Film, The Museum of Modern Art. The exhibition is supported in part by the Cultural Services of the French Embassy in the United States. You can read more about it here.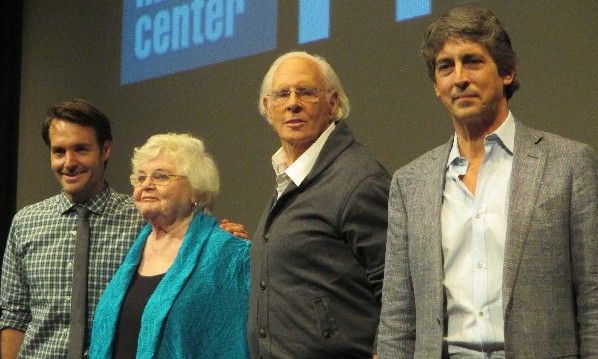 Will Forte, June Squib, Bruce Dern, Alexander Payne bringing Nebraska to New York
Photo: Anne-Katrin Titze
Share this with others on...