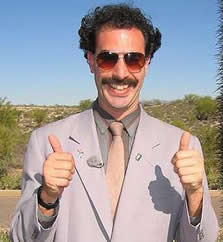 Sacha Baron Cohen as Borat
Now in its 50th year, the London Film Festival aims to bring the very best from festivals around the world and make it directly accessible to the British public. Regularly attended by those who make and star in the films, it also gives the public the chance to ask questions and find out more about the film industry. This year the LFF features a special programme of films about what it means to grow up British. For those seeking something more unusual, it also has a strong strand of cutting edge experimental cinema.
This year's London Film Festival features the gala premiere of The Last King of Scotland, about a Scottish doctor working in Uganda under the rule of Idi Amin. Also featured will be Bobby, Emilio Estevez's film about the assassination of Robert F Kennedy, Sacha Baron Cohen's mockumentary Borat: Cultural Learnings Of America For Make Benefit Glorious Nation Of Kazakhstan and the new 3D version of Tim Burton's The Nightmare Before Christmas. Read who won what.
View previous years coverage of the London Film Festival festival:
London Latest Reviews
London Film Festival Features