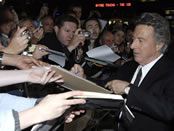 Dustin Hoffman signs autographs at a screening of Stranger Than Fiction
So, from over 2000 submissions I've got 181 films to watch, including 123 UK premières, with 32 European and three World firsts, one pair of eyes, it's dark and I'm wearing contact lenses. Roll film.
Storming past its half century in style, the London Film Festival has again been offering its tried and tested cocktail of glitz, glam and great films. With a commitment to not only show the choicest of festival faves from earlier in the year, but also to focus on new British and foreign discoveries, there's a dizzying array to choose from.
Choose? While you know some will please all and others will divide audiences like cinematic marmite, a certain quality of filmic entertainment and debate is a given. I don't want to choose. I want to see them all. Two problems. First off, I've lost my keys to the DeLorean, so there's just no time-hopping back and forth to catch every single screening. Second, with my plan to win the lottery by now having missed the mark as spectacularly as Pearl Harbour, the day job remains. No one's going to pay that mortgage man except the man whose mortgage it is. Begrudgingly, I've had to settle for as many evening screenings as I can feast my bloodshot eyes and straining ears on. And there's always a chance to pick up some high and lowlights that aren't confined to the screen.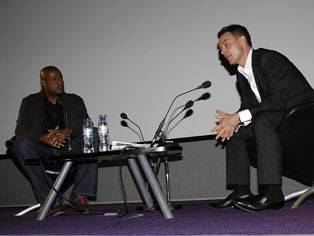 The festival kicked off on 17th October in style with Forest 'I'm not always that cuddly' Whitaker's superlative performance as Idi Amin in the gala premiere of The Last King of Scotland, directed by Kevin Macdonald. Whitaker followed this with a screen talk at the National Film Theatre the next evening, pictured left, where the actor was typically assured but self-effacing. Although perhaps not deliberately reluctant, he really had to be coaxed to comment on his approach to his craft, but was warm to questions from the audience on not only his films but his recent television work as well.
Highlight: Ghost Dog growling in the flesh. Lowlight: While Forest was getting ready for the mic at the NFT on 18th, crowds had already gathered in Leicester Square for the premiere of Venus. Director Roger Michell and scripter Hanif Kureishi (who also collaborated on The Buddha of Suburbia and The Mother) were joined on the red carpet by their assorted stars: the mighty veterans Peter O'Toole and Leslie Phillips, along with the ebullient Richard Griffiths and newcomer Jodie Whittaker. It was both bemusing and weirdly reassuring to discover that the two old-timers still get the young ladies screaming along with the best of them.
When the cameras had finished flashing I headed on to watch Candy, the Australian tale of a doomed druggie romance, with a sound performance from Heath Ledger and a resounding one from Abbie Cornish. Less hip than Trainspotting and less cult-chic than Drugstore Cowboy, this is a simplistic but heartfelt tale of love and narcotics spiralling out of control. It's reassuring to see both that Ledger's following through on his promise to take on more meaningful projects since Brokeback (this is no A Knight's Tale) and that Cornish can really deliver the goods when stretched with the right material - quite frankly Candy shames her pretty but empty role in Russell Crowe's A Good Year.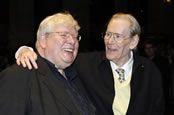 Highlight 1: Watching the spirit of Monty gliding in Richard Griffiths' (pictured right with Peter O'Toole) shadow.
Highlight 2: Having my picture taken while I strolled up the red carpet to collect my ticket. To that particular Japanese tourist, my heartfelt thanks.
Lowlight: When the security doormen start getting anxious - it makes them shout even louder.
On the 20th more heavyweights arrived for the premiere of Will Ferrell's latest, Stranger than Fiction. Not that co-star Dustin Hoffman appeared heavy himself, rather diminutive in fact as he spent time chatting and signing autographs along the red carpet. Nonetheless, despite crowds half a dozen bodies deep, there was no mistaking that profile.
I opted for A Comedy of Power - an intriguing addition to Claude Chabrol's French canon, the director renowned for leading the nouvelle vague. Isabelle Huppert stars as an examining magistrate delving into top-end business corruption in dealings that run alongside France's real-life ELF scandals. She is an intelligently authoritative woman in the midst of cigar-chomping males, driven by her belief, integrity and professionalism. You don't have to follow the financial investigation fully to appreciate this at times witty, at times bleak examination of both modern business and the personal and domestic toils that an admirable woman in a sphere of patriarchs has to suffer. Supported by an able, almost all male cast, Huppert's multi-layered, humane and credible performance is eminently superb.
Highlight: Throngs of punters pushing forward to glimpse the celebs, all asking each other, "But who is it?"
Lowlight: You're waiting for the film. Two film fans, always blokes, always in the row in front of you, talking at each other. They're deliberately loud enough for us all to hear while not listening to each other, save for trying to outdo their mate/opponent on film facts/viewings/anecdotes/insider titbits/name drops/power trips/etc. It's a mutual pact of self-publicising, politely seething rivalry that barely vents some kind of frustration that none of us are ever interested in. Ever.
It's the 21st of October, it's the weekend, time for something a little more adventurous. Takashi Miike has never let me down before - and Big Bang Love, Juvenile A, pictured below, certainly didn't this time. His bewildering adaptation of Masaki Ato's manga Elegy for Boy is a homoerotic piece that throws its all into both the screen and narrative tricks.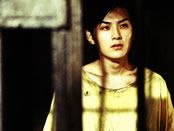 Lowlight: Ushers showing latecomers to their seats some ten minutes after the film's started, blocking the crucial subtitles for swathes of the audience at a time. When the film starts, the doors should lock.

Share this with others on...