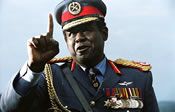 Forrest Whittaker in The Last King Of Scotland
Well folks, my journey is over and came to a swift end. The first achievement I made at this year's 50th London Film Festival was actually managing to attend it. Anyone in a similar position to me - whose love for writing and movies is only a small-time gig and who suffers the hell that is balancing pleasure (writing) with pain (full-time work) - will know exactly what I mean. I was accredited last year but couldn't get time off. This year I leapt at the chance to head to the capital and report on its delights.
This year's trip opened up my eyes to quite a few things. For instance: any moment you get, savour it; and any chance you get, take it. For the few weeks building up to the festival I was trying to liaise with the PR people to secure interviews, attend press conferences and manage the timetable as best I could around the few days I managed to get off to cover it. See my hits and misses below for how I got on.
Living off quick McDonald's breakfasts with Starbucks Frappacino fixes to keep me going, I managed to see some great movies and one not so good (the horror movie from Hell, literally). My main highlight was attending the premiere of The Lives of the Saints, pictured below, and being able to walk up the red carpet, a truly surreal moment. In fact I walked it three times, as security let me in too early and I found myself standing next to Dustin Hoffman in the foyer; he had arrived just minutes earlier for the Stranger than Fiction premiere. For those wondering, yes he is tiny - however, the same cannot be said for co-star Will Ferrell's hair. Mr Ferrell was sporting quite an impressively large afro combined and a bright blue suit which brought out the fashion critic within me. He truly is the 'king' of comedy, he brought a smile to my face just with his presence.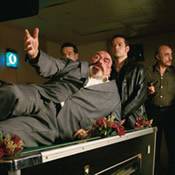 The screening was great. The Lives of the Saints is an original and refreshing piece of British film-making. The cast, mostly unknowns, are excellent and the direction by first-timers is accomplished, so good that I am feverishly wanting to know what they have in store for us next.
A very funny, warm Q&A session followed with directors Rankin and Chris Cottam, writer Tony Grisoni and the cast. We learned that for a movie so cinematic, the budget was very low (a million, I believe) and that everybody embraced the experience and the opportunity they had in bringing the movie to the LFF. As we filtered outside, the cast and crew were available for pictures and light conversation and were very approachable. I took this opportunity and savoured every moment as I think this movie will be a huge success and all involved will be ones to watch in the future.
The best movie at the festival for me was Candy, an engrossing tale of Australian junkies that was beautifully written, superbly acted and had me hooked to its every frame. It's a shame there was no real promotion or press for the movie, but word of mouth will no doubt be good. Sadly, no cast and crew attended its premiere. For a film with such a low budget it would have been nice to see the stars out in force spreading the word. Damn those filming commitments!
Organisation was essential; I hadn't realised you couldn't just turn up and queue for the movies - as in my Venice 2005 experience - you had to request tickets for the public screenings if you were with the press. So everyday I would await a green light via email to attend the films I wanted to see, and touch wood (pats head) I succeeded in seeing every movie I wanted to. Thanks to Premier PR for coming through for us and helping me see what I wanted to over a very short period of time.
In closing, I had a great time and will finish with the hits and misses I experienced during this years trip.
The Hits
Securing a ticket on my final day to see The Last King of Scotland, which I had missed previously because the underground was closed on the day of the press screening. A cinematic delight, worth the wait and a good way to sign off this year's festival.
Walking the red carpet and mingling amongst big stars, if only for a few minutes before being ushered inside the screening. A crazy, flash-bulb frenzy.
Dealing with nice, helpful staff at the events who were accommodating and extremely friendly, especially when securing screening tickets.
Meeting David Leon, the star of The Lives of the Saints, who happily posed for a picture with my friend Pippa and made her night. A great guy and a good actor, he is one to watch out for. (He apparently is also hot, so Pippa says!)
Seeing such great movies, a good diverse mix this year. Smaller intimate choices, totally the way forward.
The Misses
Not being able to attend the press screenings that commenced the week before the festival started, due to working full-time and having to book certain time off. Sadly with my job I couldn't be flexible enough with the daily updates I received to just up and go.
Of the movies I did see, Bug was the biggest miss. Horror movies have always been a favourite genre of mine but Bug was intense and insane - my experience viewing it was so horrific I couldnt wait for it to end. My anticipation of it was high yet it was to be squashed by a car crash of a film - a film that offered so much but delivered very little and towards the end disappeared up its own arse.
No talent turning up for the Candy premiere, a big disappointment. I would have loved to interview or have the opportunity to see Heath Ledger and Abbie Cornish who both delivered fantastic performances.
Missing the opening Gala for The Last King of Scotland and not being able to interview any of the cast. Though I am giving the movie a great review we don't seem to be important enough to speak to the big names. The downside for being an online source perhaps? It's a very debatable topic.
Share this with others on...