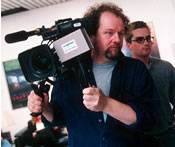 Mike Figgis oversaw A Portrait Of London project
To mark its 50th birthday the London Film Festival threw a cinematic bash for all on Friday 27th October. A Portrait of London was a "series of digital postcards" to celebrate the capital and filmmaking within it, creatively overseen by one Mike Figgis. Shown on a huge screen in front of Nelson's Column, accompanied by a rib-shaking sound system, this was a great way to pass on hour or so on a surprisingly clement October evening.
Starting off with a sub-Hextactic split screen evocation of London public transport, the collection of shorts were a little hit and miss but together made an entertaining composition. London living themes such as its indomitable pace, the yoof, constant construction works, the intimacy and the anonymity and vibrant multiculturalism were satisfyingly ticked off. Standouts for me were the eloquently absurd 'stick it to the man' tap-dancing, the wordless insights into a contemporary family that actually challenged prejudicial first impressions and a woman's comic romance with a steadicam, a clever take on the attraction of film. I particularly enjoyed the day in a life of a bewildered man, filmed in Orbital-esque stop-motion, as city life blurs around him – brilliantly done.
With the colossal screen animating Trafalgar Square and its audience, the soundtracks (from classical experimental to electro Roxbury) rattling the air and the loose change in your pocket and the city bustling around you, this was for once a refreshing break from the crowded cinemas. Here's hoping for more free films in such a great location. Next time I'll be down in front with the deck chair.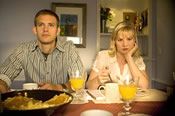 On a complete change of tack, Bobcat Goldthwaite's Sleeping Dogs Lie was then on back up in Leicester Square. Starting with Melinda Page Hamilton (Desperate Housewives) giving her dog a blowjob, this is courting not a little controversy, but winning even more praise for actually being great indie gem that is pleasingly intelligent and sincere. Melinda is pictured left, sans dog, alongside less controversial co-star Bryce Johnson.
Highlight: Meeting the extremely proud mother and father whose daughter was starring in one of the Portraits' shorts as they promptly set up their digicam to record her big moment.
Lowlight: Said parents discovering that said digicam's battery was shot. Said dad goes in search of a new one, missing said big moment. What can you say?
Lowlight: Two drunk ex-ex-ex-Fleet Street sexagenarians cracking onto me big time. I was so thrown that I missed most of the last short film.
Share this with others on...