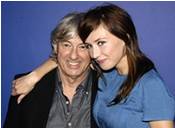 Paul with Carice Van Houten
Having spent some 20 years making movies in Hollywood, Paul Verhoeven made a conscious move back to Europe for his latest project. I wondered why this was and found the director candidly honest: "It was a necessity for me. I felt I was losing my soul," he said. "In 2000, with Hollow Man, which I felt was a bit of a hollow movie, it felt like a studio movie and I saw no signature anymore. I was looking for something else that I couldn't find in LA. So I looked elsewhere."
Verhoeven was keen to stress an important creative difference that he felt coming back across the Atlantic: "In Holland you can call up an actor, go for a coffee and discuss the part. In LA there are agents and things, so you can't. The money is in Hollywood, but the access to the talent is impossible. In Europe, there is no money, but the access to the talent is wonderful."
Although based on true events in Holland's history during the Nazi occupation, he pointed out that the film "is really a 'European' movie. The outside locations are in Holland, but the interiors were shot in studios in Berlin. I had a great time in Holland and Germany. And all the post-production was done in the UK. I spent three months here, it was wonderful."
Working back in and near his home country having clearly rekindled his creative zeal, did he have any trepidation about depicting some of his past countrymen's unsavoury actions, especially with scenes of racist brutality in a war prison? Not at all. "This is a reality," he explained. "This is what we do to each other. By coincidence it is very similar to Abu Ghraib, but this was written 40 years ago. I found that in the Dutch war archives in 1966 and it stayed with me ever since."
In fact Verhoeven and Gerard Soeteman based the film on studied facts from the Dutch occupation War, through which they weaved fiction: "There are no events in the movie that aren't historical. German soldiers were executed by German officers after the liberation with bullets given to them by the Canadians." He continued, "And the little Black Book that supposedly contained lists or fragments of things that were damaging to the Resistance. That existed but disappeared, it was never found." He added, "Of course, the story isn't true, though. That is why I call it 'inspired by true events'."
This is not the first time Verhoeven has explored Holland in WW2. His 1977 film Soldier Of Orange similarly focused on the Nazi occupation, resistance fighters, collaborators and the horrors of interrogation. Now some 30 years later, Verhoeven drew some creative comparisons. "I felt this was a shadow of the Soldier Of Orange. That was very adventurous with a male protagonist. In 2001, when we had the outline for this script, there was a male protagonist as well. But we couldn't get him [to infiltrate] the Gestapo." He continued, "But then Gerard Soeteman called me and said, 'I think we've made a terrible mistake'. We then tried a girl lead and when we used her sexuality, then everything was fine!" Progress for Verhoeven, then. On his own characteristic terms.
Share this with others on...