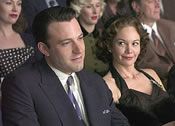 Ben Affleck with Diane Lane in Hollywoodland.
Monday 30th at the Festival and although we might be on the final reel there's still many a good scene to be watched.
That ol' red carpet is holding up pretty well and this evening was still able to take the confident swagger of Ben Affleck in its stride. Quite a crowd had turned up for the UK premiere of Hollywoodland - the much touted return to form for Mr Affleck - and it was delightful to see that the carpet wasn't at all fazed by the attention. It would have been wholly understandable after the umpteenth press mobbing for it to be feeling worn out, a bit short, a little frayed at the edges. Not a jot of it. Every thread was patient and impeccably courteous as Mr Affleck and later the likes of Jason Isaacs did the rounds. Now that's real quality.
With the rug getting the A-lister treatment I had an enjoyable evening slumming it instead. Literally. Michael Glawogger's Slumming is an enigmatic and emotionally warming slice of European leftfield that it is well worth stepping out of the mainstream for.
Highlights: Getting pole position, the best seat in the house for Slumming. Trying to explain to people why Sleeping Dogs Lie is actually a really good film, even though it's got 'that' beginning.
Lowlight: 6 o'clock in Leicester Square means having to experience again the bell-clanging cacophony of the Swiss Centre's glockenspiel clock. With internationally infamous precision, on the hour, the northwest corner of the Square sees a procession of garishly painted mannequins and cattle roll out to the disjointedly clattering tones of some two dozen bells. If you're near it is migraine-inducingly loud and goes on forever. Worse still, I barely need to be in the Square before the panel-beating triggers a bing-bong Pavlovian response and, for some reason, I'm thinking about The Sound of Music. I hate those bells.
Share this with others on...