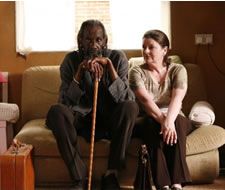 London River, starring Sotigui Kouyaté and Brenda Blethyn
The 53rd London Film Festival ran from Wednesday 14 October to Thursday 29 October 2009.
The Festival opened with Fantastic Mr. Fox and closed with Nowhere Boy.
Got a film at the festival that you want us to review? Contact us here.
View Films by Strand:
View previous years coverage of the London Film Festival festival:
London Latest Reviews
London Film Festival Features
Behind the Milk Of Sorrow
Claudia Llosa talks about Peru's history and the themes in her magic realist Golden Bear winning film.
London Film Festival News