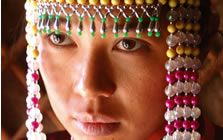 Tuya's Marriage is among the films screening
The 51st London Film Festival will run from October 17 to November 1 at venues across the capital.
This year's strands include French Revolutions - celebrating the best in film from across the Channel and New British Cinema - showcasing the best of the home-grown talent. Among the famous names in attendance this year are actor, director and writer Steve Buscemi, The Darjeeling Limited director Wes Anderson, cult director Robert Rodriguez and Jindabyne star Laura Linney. All this, plus the very first Fido Awards - for the best dog performance, the organisers say: "There will be dogs: some will pad home chewing on their trophies, others will leave empty pawed. Don't miss the drama." And who are we to argue?
View previous years coverage of the London Film Festival festival:
London Latest Reviews
London Film Festival Features
London Film Festival News