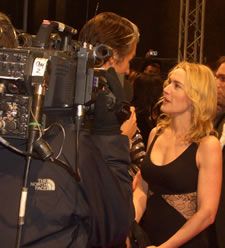 Kate signs autographs for fans
Wednesday 24th was officially Kate Winslet day. So many fans were clamouring for the English actress when she arrived in Leicester Square for her new film Little Children that she obligingly held out as long as she was allowed, delaying her own premier. Class.
After French, Japanese, Dutch and Australian films, it seemed a good evening to go British again. A long term fan of Nick Broomfield's plummy, scrutinising documentaries from Soldier Girls (just how relevant has that become again now?) to Aileen, his latest film Ghosts seemed perfect.
Based on the tragic deaths of 23 immigrant workers in Morecambe Bay two years ago, it is an inventive, realistic mix of documentary and fiction that heralds another critical success for the director. Well received by the capacity audience Nick was, of course, only too happy to discuss the production afterwards. Very gentlemanly of him.
Highlight: The random things you overhear on the wrong side of the barrier to Kate Winslet:
"But have you seen Madonna's hands? No, seriously they are so massive. Honestly, she's got hands like spades!"
Boy: "Why is there a red carpet?"
Father: "For someone famous. A famous film person"
Boy: "Really?!"
Father: "Yes."
Boy: "Like The Incredibles?"
Father: "No."
Boy: "Like Shrek?"
Father: "No. Like Kate Winslet, I think."
Boy: "Who? Like Shrek?"
Sometimes, only an ogre will do.
Share this with others on...