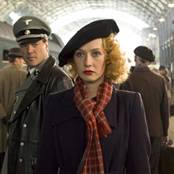 Carice van Houten in Black Book
It has been six years since Paul Verhoeven's last film, the vapid Hollow Man, graced the big screen. Now he's back with Black Book, which he co-scripted with Gerard Soeteman, made in Europe following his decades-long stint in Hollywood. Getting its UK premier on the 23rd, his Second World War drama marks a decided turn in the director's sensibilities, - away from the American studio system to a story based in his native homeland.
The War is drawing to an inevitable close in occupied Holland where Carice van Houten's Rachel Stein, an attractive free-spirited Jewish woman, is in hiding, separated from her family. When they are then slain by the Nazis whilst fleeing the country, Rachel joins the Resistance movement to uncover what led them to their deaths, with her searching taking her deep undercover into the Gestapo headquarters.
It's a briskly paced period epic that retains some of the director's idiosyncratic tics while covering territory that will be new to fans only familiar with Showgirls and Starship Troopers and marks a long overdue step away from that Tinseltown tosh.
The crowd of pan-Europeans getting periodically soaked outside the cinema were testament to how eagerly his renaissance has been anticipated. Then having the director wax lyrical about his first European film for some 20 years is just one of lucky dips that the Festival kicks up with satisfying regularity. Just the thing to blow the blues away.
I caught up with Verhoeven after the screening to talk about his return to both the screen and Europe (read the interview here).
Highlight: Carice von Houten melting hearts by admitting that she fell in love with her co-star for real when she first Googled his picture.
Lowlight: Audience members from all society's strata scrumming the doors to get into Black Book. Desperation, the great social leveller.
Share this with others on...