Eye For Film >> Movies >> Rabbit-Proof Fence (2002) Film Review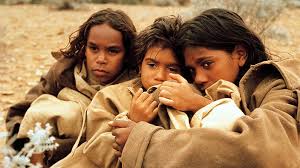 Coming at last to the shaming history of white Australia's attitude towards its native population, an Aussie director (Philip Noyce) who made must-miss thrillers, The Saint and The Bone Collector, goes back to basics, as if Hollywood had never dazzled lights in his eyes.
Based on a true story, the film has a simplicity that burns through the sole of cynicism. This is cruelty, tied to high-minded ideals - the worst kind. In the Thirties, the government passed a law for the protection of aboriginals, which meant that "half-caste" children could be forcefully taken from their mothers and given to white families, who would provide a "better" life. Although racist to its core, the law was designed to "protect the natives against themselves" and offer a privileged alternative to those who would otherwise have had to live like bush rats. There was also the matter of "the unwanted third race", which, it was believed, could be bred out in three generations. The unwanted third race was the half-caste and what needed to be bred out was "black blood."
Molly and little Daisy and their cousin Gracie were taken and transported in a cage on a train 1200 miles to the Moore River Native Settlement where they would live in bare dormitories and be assessed for future adoption. It was more like a concentration camp than a boarding school, far out in the country, administered by matrons in starched white uniforms.
The film tells of the children's escape and how they follow the rabbit-proof fence across a blistering desert, pursued by men on horseback and a native tracker, to where they hope is home. If it wasn't true, this would be unimaginable. The tenacity and courage required to survive such an impossible journey, without food or water or geographical knowledge, is beyond belief. Miracles happen, but this required a greater magic, if magic it was.
The look is bleached and untouched. Christopher Doyle's cinematography has a rawness that belies the romance of the outback. The performances of the children, untrained in acting, have an honesty and dignity that breaks your heart.
Noyce tells their story. He doesn't elaborate. He stands back to allow the girls room to be together. Of course, he was there, helping them, but the way he films it, you would have sworn they were on their own.
Reviewed on: 17 Aug 2002
Share this with others on...