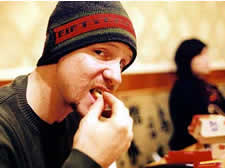 Morgan Spurlock chows down in Super Size Me
The 2004 festival opened with the UK premiere of Che Guevara biopic The Motorcycle Diaries and wrapped up with a Korean retelling of Liasons Dangereuse, Untold Scandal, which replaced the much-touted 2046 after it turned out that it would not be finished in time.
Crowdpleasers included Super Size Me (which also won the Guardian New Directors Award for Morgan Spurlock) and Inside I'm Dancing, which took the Audience Award. The Michael Powell Award went to My Summer Of Love.
Short film winners included Billy's Day Out and Brand Spanking. Short Scottish Documentary Award went to Jim Hickey for And So Goodbye.
View Films by Strand:
View previous years coverage of the Edinburgh International Film Festival festival:
EIFF Latest Reviews
Edinburgh International Film Festival Features