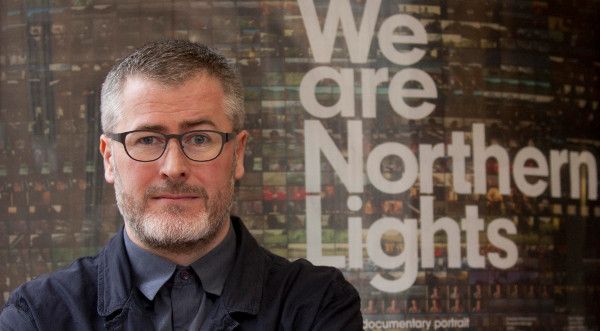 Since its première at this year's Glasgow Film Festival, micro-budget Scottish documentary We Are Northern Lights has gone from strength to strength. Now it's back for an extended run at Cineworld venues across Scotland, starting from the 3rd of May. We caught up with director Nick Higgins to ask him how this makes him feel.
"I'm delighted," says Nick, who sounds it. "Really, all filmmakers want their films to get as big an audience as possible. I've had three of my films play at the Edinburgh Film Festival and it was great to do that that but this is something different, this is the paying public. And of course it's historic. No Scottish documentary has ever been given a release like this before so I hope we've created a wee space there."
Crowdsourced and put together using footage from right across Scotland, this is an incredibly ambitious film, especially given its small budget. What persuaded him to take it on?
"It kind of came about because somebody approached me to make a series of documentaries about the future of Scotland, partly on the basis of a film I'd made before called The New Ten Commandments with ten filmmakers focusing on human rights... I thought about the technical changes that had taken place since I made that. The biggest of these changes is that the technology exists now for most people to film pretty high quality footage, maybe not on their phones, but domestic cameras are now of sufficient quality to shoot decent images."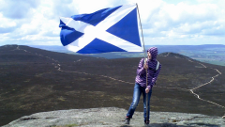 Having had the idea, he set about trying to fund it. It helped that 2012 was the Year of Creative Scotland. Although he sympathises with some of the recent complaints made about Creative Scotland by filmmakers and others working in the arts, Nick feels it's important to note that there have also been positive changes, and he was particularly pleased to be able to access a fund focused on participation, First In A Lifetime. "Once I got the green light we got started, and I should say that for them the project was already a success before the film was made because it engaged so many people, over 50,000. I was never sure if anyone would get involved or if we'd get enough footage. I worked out that we needed around 100 hours of footage to make the film so to get around three times that was great."
Watching the film as a critic, the first thing that stands out is the mammoth effort that must have been involved in sorting through all this footage and assembling the useful pieces.
"I think of it as like watching a good surfer," says Nick. It looks incredibly natural when it all comes together but I can tell you that there were stages when that film absolutely did not flow."
He talks about his good fortune in getting Colin Monie, veteran of NEDS and Young Adam, on board as editor. "We collaborated and gave each other confidence when we thought it was impossible. There are not many editors in the country who would take on something of this size. It was a very different process from usual in that, frankly, if something was too slick or too professional it often didn't make it into the cut. We wanted beautiful scenes, of course, but we were looking for things that felt fresh and authentic and honest.
"The thing that gave us the film's shape, strangely enough, is water - it became one of the big surprises of the footage. I had no idea how many people enjoyed jumping into water in Scotland!" He laughs. "These wee cameras called Go-Pros have suddenly made it possible, quite cheaply, to film underwater. That's how we got all that great footage.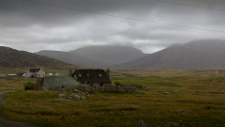 "That fluidity allowed us to cut between things and it also worked in a metaphorical level because we were looking to create a refreshing view of Scotland. That's something that we were challenged on, actually, about our authenticity, because it wasn't raining all the time. We were very lucky with the three months we were open for submissions in that we had very good weather. We did pick March to June for being the best for the light. there were also a lot of rituals going on - the Olympic torch, the jubilee, the Beltane - that were significant for Scotland."
Humour is also an important part of what makes the film work.
"We let people know really early on that whilst the documentary was about a portrait of Scotland it was okay for them to be irreverent and send up their national identity if they wanted to," he says. "We wanted people to have fun with it, it gives the film a lot of its energy and its vibrancy. People recognise the humour. That's the most gratifying thing, the huge sense of recognition when you get to see it in a cinema full of people. Normally, as a filmmaker, I'd be really annoyed and offended if people were chatting in my film but in this one here are always wee bits of chatter." He sounds pleased.
"It ended up being something of a celebration in a way we'd not anticipated," he concludes. "I think there's this feeling that being asked about our future is a positive thing no matter what happens with the referendum [on Scottish independence]. We went out of our way to work with people with alcohol problems, drug problems, mental problems, health problems. The response was nearly always local and personal, not national or political. When we put it together we definitely did have the feeling that people take great pleasure in living in Scotland. We don't duck the problems and yet it's a feelgood movie. It's a sort of national home movie, that's what we're inviting people to see in cinemas. Normally we don't like seeing other people's home movies because they're boring but this is fun because it's so inclusive. I think it goes right back to the origins of cinema. The Lumière brothers filmed people and then showed them themselves up on the screen. The big change here is that people are pointing the cameras at themselves... It's the sort of access filmmakers don't normally get."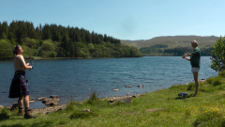 Asked how it's gone down outside Scotland he says that so far it's only screened in one other place, New York, "in a fully subtitled version." That was a big test, he says, and he was delighted that it went down well. But Scotland remains the focus. "This was a film made very much for domestic audiences; they contributed and we wanted to bring it back to them. We cannot duck the historical context of the film. As people raise all sorts of questions this is an answer to some of those questions and it's important because it doesn't reduce us to a single identity. We have 121 different perspectives."
He's really chuffed about the Cineworld release, he says, "but we are up against Iron Man 3 and Star Trek 2. Our budget is about a tenth of their marketing budget. If we can hold our own then I'll be even more chuffed."
Share this with others on...