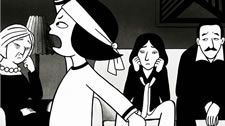 Marjane Satrapi and Vincent Parannaud's Persepolis wins Sutherland Award
The 51st London Film Festival winners have been announced, this year honouring the best in emerging talent.
Marjane Satrapi and Vincent Paronnaud won the Sutherland Trophy for "the most original and imaginative first feature film." For their black and white animation Persepolis, which tells the coming of age tale of a young Iranian, beginning during the Islamic Revolution. The jury described it as: "An astonishing and courageous film which captures a universal story with real style. Irreverent, fresh, witty and also heartbreaking."
The FIPRESCI International Critics Award also went to a first-time director, Joanna Hogg, for her intelligent drama Unrelated, which tells the story of a woman who finds sexual tensions come to the fore when she goes on holiday with a group of bourgeois pals to Tuscany.
Sarah Gavron, also making her feature film debut, picked up the Alfred Dunhill UK Talent Film Award for the onscreen adaptation of Brick Lane, the story of a Bangladeshi woman struggling to come to terms with life in London.
The Satyajit Ray Award – also set up to award a first feature – went to California Dreamin' (Endless) (California Dreamin' (Nesfarit)), described as a "Balkan farce that moves inexorably to tragedy" in the film festival programme and directed by Cristian Nemescu, who previously made waves with his harrowing short Marilena Of P7.
Doubtless hoping his short film will prove the springboard to the same sort of success, Tom Tagholm was awarded the TCM Short Film prize for A Bout De Truffe (The Truffle Hunter), about a truffle hunter who makes the discovery of a lifetime.
Bulgarian director Andrey Paounov, meanwhile, won the Times BFI London Film Festival Grierson Award – for best feature-length documentary – for The Mosquito Problem And Other Stories (Problemat s komarite i drugi istorii), the story of life in the Bulgarian town of Belene.
What do you think about the winners? Have your say in our forum.
Share this with others on...