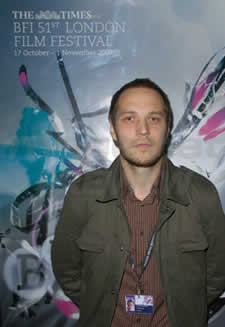 Writer/director Aleksi Salmenperä photo: Stuart Wilson/Image Net
A Man's Job is shouldering a country's reputation in London this week as it's the sole Finnish film showing in this year's festival. Quality not quantity, as they say, and Finland certainly have confidence in writer-director Aleksi Salmenperä's latest effort, choosing it as their official submission for the Best Foreign Language Film Category in next year's Academy Awards.
It's an intriguing film focussing on an out-of-work father's unorthodox attempts to still be the family breadwinner, by trying his hand at male prostitution. Salmenperä was on hand at the screening to talk briefly about his breakout picture. Attention inevitably turned to the controversial scenes where a mother engages the services of the male lead for her daughter with Down syndrome. What advice was Salmenperä given when he wrote those sequences?
"I was asked to take out the Down's syndrome scenes. I was told it is not right to use the Down's syndrome actress," he said. "I thought about it. But when I met the actress and her mother they were demanding that it be in the film. They are the clients, like everyone else."
Those, and other scenes, have provoked differing reactions at screenings around Europe. "In France I was asked to put in more Down's syndrome sex," the director noted. On a more general level he added: "In Spain they laughed a lot throughout the film. Everywhere else they're quite silent".
There are certainly humourous moments during the film that the London audience seemed to appreciate, although not raucously. Had Salmenperä been trying the make a comic film?
"When I was making it I was trying to keep it funny," he said. "The subject is not funny, so I tried to add elements so that you can laugh at the man's humilities, if you feel like it." But he admitted, "In the shooting it got more serious than I thought."
With this being his second Oscar nomination, following his Producing Adults in 2004, it looks like things could be getting even more serious for the filmmaker in the future.
Share this with others on...