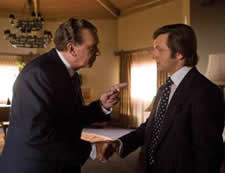 Frank Langella as Richard Nixon and Michael Sheen as David Frost
The Times BFI London Film Festival has announced that this years will open with the world premiere of Universal Pictures' Frost/Nixon.
The film, directed by Ron Howard will kick off the 52nd edition of the festival on Wednesday October 15.
Adapted for the screen from his own stage play by BAFTA-winning scriptwriter Peter Morgan, Frost/Nixon sees Michael Sheen and Frank Langella reprise their West End and Broadway roles as journalist David Frost and President Richard Nixon.
They are joined by a supporting cast including Kevin Bacon, Oliver Platt and Sam Rockwell, as well as British performers Rebecca Hall, Toby Jones and Matthew Macfadyen.
In summer 1977, the televised David Frost/Richard Nixon interviews attracted the largest audience for a news program in the history of American TV.
More than 45 million viewers—hungry for a glimpse into the mind of their disgraced former commander-in-chief and anxious for him to acknowledge the abuses of power that led to his resignation—sat transfixed as Nixon and Frost sparred in a riveting verbal boxing match over the course of four evenings.
Festival Artistic Driector Sandra Hebron said: "We're delighted to be opening our festival with this fascinating study of a unique moment in cultural and political life. Engrossing and entertaining by turns, and brilliantly performed, it is a film with strong London links and a perfect opener for this year's festival."
Peter Morgan added: "I've been so fortunate with Frost/Nixon, working with two world-class directors in theatre and film and watching two lead actors at the top of their games. Now, having the film premiere at my hometown just completes a thrilling, fairytale ride for me."
The film will receive its general UK release from Universal Pictures on January 9, 2009.
The full programme for The Times BFI 52nd London Film Festival will be announced on Wednesday September 10... watch this space.
Share this with others on...