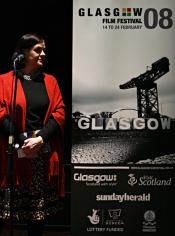 Allison Gardner unveils the programme in full.
Photo by Stuart Crawford
Glasgow Film Festival celebrated its fourth year in 2008. Among the premieres and previews, it also featured a Bette Davis retrspective and ran from February 14 to 24.
The GFT was the central hub, with additional screenings in Cineworld Renfrew Street and in the CCA.
View previous years coverage of the Glasgow Film Festival festival:
Glasgow Latest Reviews
Glasgow Film Festival Features