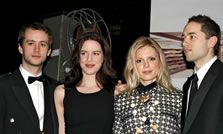 Sean Biggerstaff, Michelle Ryan, Emelia Fox, Sean Ellis at the opening night premiere of Cashback in Glasgow.
Photo by: Max Crawford
One of the youngest film festivals in the UK, Glasgow is entering it's third year in 2007 with an exciting programme that includes the UK premieres of Cashback, Curse Of The Yellow Flower. They will also present a John Wayne centenary retrospective and a focus on Danish cinema. Read our full news preview, and check back regularly for new reviews and features.
View previous years coverage of the Glasgow Film Festival festival:
Glasgow Latest Reviews
Glasgow Film Festival Features
Glasgow Film Festival News