My first and only day at the Glasgow Film Festival (GFF) was interesting. I have only visited the city briefly in the past, and never travelled on two wheels. While orienting myself with the matrix of city centre roads armed with a cycle map, I briefly passed Festival director Allan Hunter in Sauchiehall Street. He stopped for a small chit-chat at the Glasgow Film Theatre (GFT) - about the festival going from "crisis to crisis", yet swiftly backpedalling with a grin - "from triumph to triumph". Also, we briefly discussed the reception of films so far in the festival and predictions about how they'll do in general release. Of note, the opening night film, Woody Allen's Cassandra's Dream, has (despite Jennie Kermode's five-star critical rave) surprisingly had a poor reception post screening. Also, the new 35mm prints struck for the Bette Davis retrospective have had the GFT projectionists in an uproar - one of the prints has never been projected before. Freshly struck virgin prints of vintage films are gold-dust for projectionists!
Before Eye For Film's GFF photographer Stuart Crawford showed up at the GFT to take pictures I decided to see a movie. The next in the lineup was Angel - about an egotistical, yet gifted writer in the early 20th Century. I found myself disagreeing strongly with our current review by Susanna Krawczyk; I found it to be a dull and uneventful adaptation of the book by Elizabeth Taylor ("not Richard Burton/diamonds Elizabeth Taylor," Hunter noted in his introduction). Ozon provided a visually lively movie, though it was obviously artificial at times. But the storytelling, and indeed the story itself, were limp and lifeless. I could not lose myself in the hodgepodge blend of misery and false happiness. The film's audience reception matched my own feelings - icy silence.
The real reason I'd come to Glasgow was to try to get an idea of how the festival is seen by the people who run it and visit it. Sadly, this is only backed up by loose handwritten notes, as I successfully lost my iPod microphone on the train and cycle journey.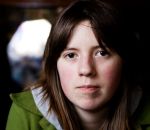 The volunteers and patrons were an affable bunch. Stuart proved to be a superb social catalyst filling in the gaps where my inexperience in talking with strangers became clear. A disarmingly charming demeanour and photography props often helped when I froze up.
Flo, pictured right, was easily the most cinematically well-versed of our interviewed patrons - her current favourite festival film was Honeydripper, with its delightfully "quirky soundtrack" and "good performances". Allan Hunter had previously noted the mixed reception it got at screenings.

Indeed, in our back and forth from the GFT and the Renfrew Street Cineworld we started amassing a small collection of followers - I barely resisted skipping and bursting into a rendition of Wonderful Wizard Of Oz. Hollie, a volunteer who was just knocking off her shift, joined us as we walked and was pleased to discuss the excellent personal and professional networking opportunities given by volunteering. Her interests are in filmmaking - and in discussing our favourite films. "Not just the best, your favourites!" Alas, there was insufficient time to get into the whole Vertigo versus Rear Window chestnut.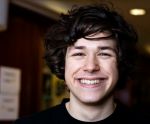 Back at the GFT, music student Andrew was also up for a quick chat. Again, he saw the festival as a great thing because of the networking and social opportunities it offered, the four free tickets and the other possible movie experiences. No one we'd met had been to any industry parties, however - so a bit of subtle encouragement was due to each of them.
A quick visit back to Cineworld, and a slightly overzealous security guard stopped Stuart and me from talking to fellow patrons until he'd talked to the manager. Cue a little bit of panic, in that our coverage of this year's festival has been somewhat plagued by misfortune and difficulties, but this problem was quickly solved. We met with the manager, Lisa, who was very helpful, and we even got to ask how she thinks the festival has been received by audiences. She suggested the admissions had gone up, but that we should ask a more official representative of the festival for more specifics. Stuart also asked about the mixed reception of last year's List Surprise Movie - David Lynch's INLAND EMPIRE. We hoped she might give us a hint or a clue as to what this year's Surprise Movie would be, but alas - like everyone else, she kept schtum, and newly unveiled tickets had sadly sold out. When you read this, it will have been revealed.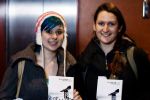 Finally, we chatted with a pair of young women, pictured right, who had never visited Glasgow and knew nothing of the festival until a few days prior. They were looking forward to Funny Games and Shotgun Stories - and asked our opinions about what to see over the next couple of days. I could only recommend what I'd seen at the Edinburgh Film Festival: Teeth, Death Proof (screening as part of the Grindhouse experience) and a handful of films recommended by our own Amber Wilkinson: Special People, I Served The King Of England and XXY.
Onto the evening show: Michael Haneke's English language remake of his own 1996-vintage Funny Games - something I had been looking forward to after reading Angus' take on the original and Tony's review from this year's Sundance. Anyway, I'm not sure I should recommend it, but it is an intensely disturbing and entertaining film about two sociopaths terrorising a yuppie couple. A fine film with plenty to say about both sides of the silver screen, combining strong psychological horror and humiliation. I suspect the remake affected me more strongly than the original would have done, due to the lack of a language barrier making it feel more direct. Look out for it when it's released on April 4. Or avoid it like the plague if you don't like being horrified out of your wits.
In an effort to get more official news about the festival I had a quick e-mail conversation with Allan Hunter, who revealed the it has indeed made a considerable improvement over last year. He gave an estimate of a 25-33 per cent increase in admissions, with "lots of sell outs over the final weekend: Joy Division, The Pope's Toilet, the world premiere of The Cottage, Lars And The Real Girl, Local Hero and the world premiere of A Life In The Death of Joe Meek".
In closing, this was my first and only day at this year's Glasgow Film Festival - but you can be assured I will return next year! Hopefully armed with something more substantial than a pencil and paper...
Share this with others on...