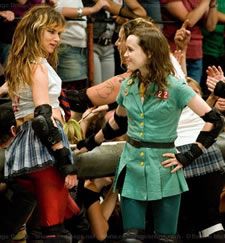 Drew Barrymore's debut Whip It is among the gala screenings
The sixth Glasgow Film Festival is bigger and better than ever, with lots of exciting things going on. Opening with the premiere of Jean-Pierre Jeunet's Micmacs, it features new work from the likes of Hayao Miyazaki, Todd Solondz, Drew Barrymore and Werner Herzog.
Frightfest is back for a spine-chilling weekend, the youth festival will provide entertainment for everyone from tots to teens, there's a retrospective focusing on the suave Cary Grant, a special look at the best of new Japanese cinema, and a personal appearance by the voice of Darth Vader himself, James Earl Jones - one of several stars who will be walking along the red carpet at the GFT.
The likes of Zombie Zombie and Pere Ubu will be performing special film-based concerts and there will be glittering parties to look forward to. We'll be bringing you all the news right here, along with exclusive features on the people and the films it's all about.
View Films by Strand:
View previous years coverage of the Glasgow Film Festival festival:
Glasgow Latest Reviews
Glasgow Film Festival News