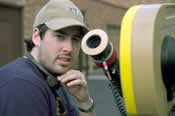 Jason Reitman
At the end of 2006, Eye For Film spoke to the Juno director about one of the busiest periods of his life. Here's what he had to say about his plans for the teen-pregnancy comedy which has gone on to receive a slew of award nods, including Oscar nominations for best directing, best screenplay, best actress and best picture, and his previous critical hit Thank You For Smoking.
It has been a whistle-stop 15 months for director Jason Reitman – since his debut feature Thank You For Smoking opened at the Toronto Film Festival and sparked a bidding war, which culminated in 20th Century Fox matching its original £3million budget with its distribution deal.
In the intervening months, the satire about slick smoking spin doctor Nick Naylor, which is out to own on DVD from January 8, has managed to be a hit on and off the festival circuit and is now in the running for Best Picture in the Golden Globes – a feat Reitman has described as "a miracle".
Eye For Film caught up with the director a few days before the Globe nominations were announced and even then he was describing 2006 as "the greatest year of my life".
It took the 29-year-old half a decade to bring his adaptation of Christopher Buckley's novel out of development hell and onto the big screen, so it's no wonder it feels like his baby – and there's a parallel with his homelife, too, since he became a dad for real in October.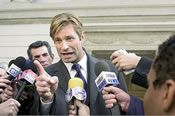 Aaron Eckhart in the adaptation of Buckley's novel
"I spent five years trying to get this movie made," he says. "And in the past year it played at the Toronto Film Festival, it got picked up with a really good sales record at the festival, the film came out really well and to top it all off I have a newborn baby girl. It doesn't get much better than that. Every year will be a disappointment from now on. It's really been incredible."
His screen baby has certainly gone from a crawl to a run, helped by the stellar cast he assembled, including Aaron Eckhart, pictured left, as king of spin Naylor, Robert Duvall as his patriarchal boss and indie film staple William H. Macy, pictured below right, as the anti-smoking senator he squares off against.
Many directors would have found the prospect of such a team of heavy hitters distinctly daunting but Reitman seems to have taken it all in his stride, although he does concede he will have "a little more confidence" when it comes to his next project Juno – which begins shooting later this month.
He adds: "I was very fortunate in that my cast in Thank You For Smoking trusted me and I would not be moving forward with any actors unless they trusted my vision."
Reitman certainly had a fixed idea of what he wanted from his film and – in a departure from the book – elected not to have any of his characters actually smoke on screen.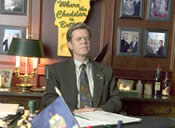 William H Macy has a supporting role in the film
"It was specific choice that happened while I was writing," he says, "I was adapting this book and there was a moment in which Nick in the book pulled out a cigarette and I tried writing that and it felt wrong. So I stopped and tried to analyse the situation and began to realise in the book you can get away with talking about characters smoking – you don't envision it as much.
"But in the film, had the characters been smoking, the audience would constantly be trying to read into what I meant by that. Whether I was trying to vilify cigarettes or 'hero-ise' cigarettes and I was trying to deny that. For me this is a movie about talking about political correctness and personal responsibility. The cigarettes are really just a location."
Personal responsibility is a key factor of Reitman's work. His short films Consent – a comedy which sees lawyers stepping in to agree terms before a young college couple can make out – and In God We Trust - which takes a wry look at the sort of good deeds needed to get you into heaven - both touch on it and it is also at the heart of his new film Juno – which focuses on a teenage girl facing tough choices.
It's about 16-year-old girls who are growing up too fast and 30-year-old men who won't grow up. It deals with the idea of young girls who are given the opportunity to grow up too quickly, and often do… and men in their 30s who refuse to step up and be men.
"A 16-year-old looks to this 30-year-old man and this couple as an opportunity to become an adult herself. She's pregnant and has one foot in adulthood already. And this 30-year-old man, who doesn't really want to have children, looks to this girl and sees an opportunity to stay young."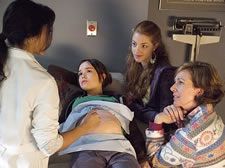 Elliot Page, centre, has been nominated for an Oscar for his role in Juno
Reitman certainly takes his own responsibilities seriously and is relishing the fresh challenge of Juno – which begins shooting in February and stars up and coming actors Michael Cera (Arrested Development) and Elliot Page (
Hard Candy
) – particularly since this is the first time he has directed another scriptwriter's work.
He said: "It is a new experience, in that with Thank You For Smoking, although I did not write the book, I adapted the screenplay. So for five years there was a screenplay that I put on paper that was my own baby and I felt very strongly about it.
"Now, dealing with a screenplay that was written by someone else, it's as if a baby was left on my doorstep. It's a very different feeling in that every time there is a decision to be made, rather than pushing my own baby forward I'm trying to prevent someone else from messing up the baby."
Fatherhood, then, is clearly at the forefront of Reitman's mind but just because he's been busy realising his dreams this year, doesn't mean he didn't acquire some new ones.
Now Reitman has at least one foot in the studio system thanks to Hard C – the production company he founded with producing partner Daniel Dubiecki – which has a deal to make "subversive, indie comedies" for Fox Searchlight. And he even views the studio in familial terms.
"They have a lot of confidence in me as a filmmaker right now, so there's a lot more trust than I would have had five years ago. Fox Searchlight is a very filmmaker friendly studio. So I think I have the right relationship to make the right kind of films."
"I feel like I'm in a family now and I'm developing quite a few things there, so it's very exciting."
So, does he have any new ambitions?
"I'm going to sell out," he jokes, before getting back to what seems to drive him – responsibility.
"My dream is to continue making more movies I feel personal about and, at the same time, use Hard C to find filmmakers who are where I was five years ago, when I had a screenplay and short films that showed I knew how to direct, but I couldn't get people to back that kind of movie.
Hopefully Hard C will create those kind of opportunities and empower young filmmakers to make very personal films."
All images copyright Twentieth Century Fox, all rights reserved.
Share this with others on...