FILMS OUT THIS WEEK
Events leading up to an Australian tragedy are dramatised this week in Nitram - see our interview with director Justin Kurzel - and if you have a burning love for cinema, you can check out Baz Luhrmann's Elvis. Prisoners put on a play in The Big Hit and a man tries to rebuild his life as a pandemic causes amnesia in Apples - director Christos Nikou shared his thoughts. A young woman becomes her father's carer in Moon, 66 Questions - we spoke with director Jacqueline Lentzou - and Sufi Muslims go on a spiritual journey in Faya Dayi - see what director Jessica Beshir told us about it. All this, plus there's a rerelease for Rambo story First Blood.
If you can't get to a cinema, we have plenty of suggestions for films to watch on television and streaming services in our Stay-at-Home Seven, plus we're shining a spotlight on Tribeca Film Festival winners.
TWITTER
Follow us on Twitter.

DVD/STREAMING HIGHLIGHTS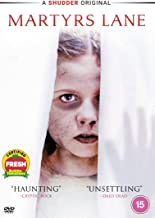 Martyrs Lane
DVD Review
A small, nightly visitor brings comfort to a lonely girl growing up in a large vicarage, but soon she will realise that her little visitor offers knowledge that might be very, very dangerous.
Cha Cha Real Smooth
Streaming now on Apple TV+
A directionless college graduate embarks on a relationship with a young mum and her teenage daughter while learning the boundaries of his new bar mitzvah party-starting gig.