Marcel The Shell With Shoes On
Blu-Ray Review
Marcel, a one-inch-tall shell, lives a miniature life with his grandma Connie and their pet lint, Alan. When the trio goes viral, they get millions of fans and new hope for finding their long-lost family.

Inland Empire
Blu-Ray Review
A married actress falls for her leading man whilst making a film about an illicit affair.

Cocaine Bear
Blu-Ray Review
An oddball group of cops, criminals, tourists and teens converge on a Georgia forest where a huge black bear goes on a murderous rampage after unintentionally ingesting cocaine.
Sorry To Bother You
Blu-Ray Review
In a speculative and dystopian not-too-distant future, black telemarketer Cassius Green discovers a magical key to professional success – which propels him into a macabre universe.
Brotherhood Of The Wolf
HD-DVD Review
A naturalist philanderer and an Iroquois martial artist search for a peasant-eating beast in 18th century.

Picnic At Hanging Rock
Blu-Ray Review
A group of schoolgirls and their teachers mysteriously disappear whilst visiting Hanging Rock.

The City Of Lost Children
HD-DVD Review
A fairground strongman searches for his brother in a grotesque world of artificial intelligence.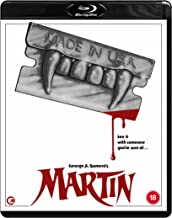 Martin
Blu-Ray Review
A young man who believes he's a vampire goes to stay with a relative who plans to destroy him.

Cursed Films
Blu-Ray Review
A documentary series which explores the myths and legends behind some of Hollywood's notoriously cursed horror film productions.