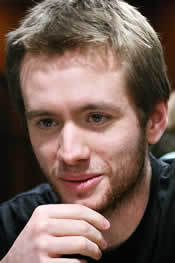 Jennie: So, let's get the obvious question out of the way first. This is a biyt of a change from the Harry Potter films, isn't it? A bit of a shift for your fans?
Sean: Yeah. I mean, to be honest, Harry Potter was totally unlike anything I've done before or since, so I kind of see that as more of a tangent than this is. I'm not involved with the Harry Potter films any more, haven't been for years, but it's all the same thing for me, you know? It's all acting. I like every kind of thing. I enjoy creating characters and seeing what happens to them.
Jennie: It must have been quite different doing a film which relied so heavily on narration.
Sean: It was, yes. It was quite nice, actually, because I could relax and really get into it and not worry about that until later. I could just concentrate on the character. I was quite involved with how that developed. I went to lots of art exhibitions and things like that, and sometimes I would say I thought Ben would have this piece of art on his wall, that sort of thing.
Jennie: Was it difficult playing such a passive character?
Sean: When I was working with Alan Rickman one of the first things he taught me was the importance, as an actor, of being able to just stand there and do nothing. It's one of the most powerful things you can do.
Jennie: Did you have personal experience of insomnia to draw on when you were playing Ben?
Sean: Yeah, I've had a few episodes like that. I could identify with that.
Jennie: How about student life and supermarket jobs?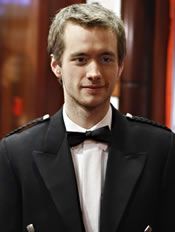 Sean Biggerstaff at the Cashback premiere in Glasgow. Pictures: Stuart Crawford
Sean:
I have no experience of student life. I left school when I was 16 and went straight into acting, but I know a lot of people who are art students and that sort of thing, so I had all that to help me when I was creating the character of Ben... I'm lucky enough never to have had a job like that but I think everybody can relate to being in a situation where you're stuck somewhere for eight hours and you're bored and waiting for the time to pass.
Jennie: What would you like people to take away from this film?
Sean: To be honest I don't think that much about story in a film, I just like to concentrate on the characters. I think this has great characters and it's interesting to see how they interact. But I like all sorts of different films, me. I mean, my favourite film is Ghostbusters.
Jennie: What are your future plans?
Sean: I'd really like to get back into theatre for a bit, because that's where it's at, really, as an actor. Performing live in front of an audience. That's what works for me.
Share this with others on...