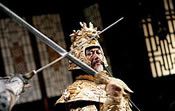 Glasgow Film Festival has announced its programme today.
The festival, which runs from February 15 to 25 will open with the UK premiere of Cashback and close with another UK premiere, Curse Of The Golden Flower, pictured right.
In the former, local lad Sean Biggerstaff makes the step up from Quidditch Captain Oliver Wood in the Harry Potter films, to the lead role in Cashback.
Developed from the 2004 Oscar-nominated short film of the same name, this romantic comedy sees Biggerstaff reprise his role as Ben, an insomniac student who works in his local supermaket, who imagines he can make time stand still.
Closing film Curse Of The Golden Flower has a much more epic sweep and sees director Zhang Yimou (House Of Flying Daggers) reunited with actress Gong Li, with whom he collaborated on a string of films including Ju Dou and Raise The Red Lantern, during the early Nineties.
The plot revolves around decadence and corruption in the Tang dynasty and the cast also boasts big-hitter Chow Yung-Fat.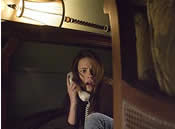 The GFF, which is now in its third year, will also be hosting a day of Frightfest films, for horror lovers. Movies to be shown include David Arquette-helmed serial killer thriller The Tripper and Oxide Pang's latest The Messengers, pictured left.
Western fans can also fill their boots, thanks to a John Wayne centenary retrospective. Ten of his films will be screened from The Big Trail (1930) through to The Shootist (1976).
Other films to be shown include post-modern noir The Dying Gaul - which made waves at Sundance 05 and then, unfairly, disappeared off the map - Dixie Chicks documentary Shut Up And Sing, drug drama Half Nelson, Woody Allen's Scoop and Shane Meadow's latest This Is England.
Read news and reviews from the festival.
Share this with others on...