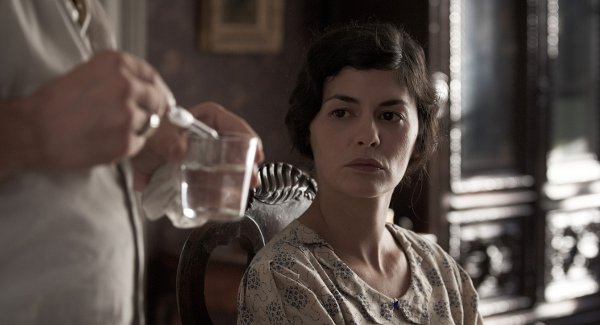 Audrey Tautou in Claude Miller's final film Thérèse Desqueyroux
Audrey Tautou, known for her sweet and light roles in such films as
Amélie
,
Priceless
and
Pot Luck
turns in a much darker direction in the late director Claude Miller's final film
Thérèse Desqueyroux
, which closed 2012
Cannes Film Festival
last year and which opens in the UK on June 7. The French star plays the title role in the adaptation of Francois Mauriac's novel about a frustrated wife whose desire for freedom spells trouble for her husband (Gilles Lellouche). Earlier this year I met her at the Unifrance Rendez-vous with French Cinema in Paris to talk about the experience.
Did you have any qualms about such sombre role?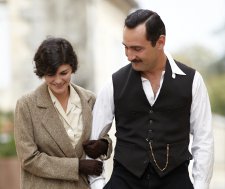 Audrey Tautou and Gilles Lellouche in Thérèse Desqueyroux
I was delighted that a director of the stature of Claude [Miller] could imagine me in a role that was so different than anything I had done before. It is always a gift to have the opportunity to off in a completely different direction. It didn't exactly free me, but it did make more want to explore cinema even more. I'm not the same woman I was when I was 22 years old. I don't feel genuine in young ingenue parts any more. Therese led me to entirely new terrain.
How did Claude help you find the character?
We discussed it a lot before the shoot. It was these discussions that proved very enlightening. He is precise in what he wants. I would play a scene with an idea of the character's motivations but I was worried if it was not developed enough. I would ask him if it was OK and he would reply, 'You did it.' That was very reassuring. He had this vision and he taught me to trust myself more, and that's something I am still progressing on.
Were you familiar with François Mauriac's book beforehand?
Claude first sent me the book before writing the script to see if I would be interested in playing this role. But it was only after he wrote the script that things began to get off the ground.
What did you like about the character?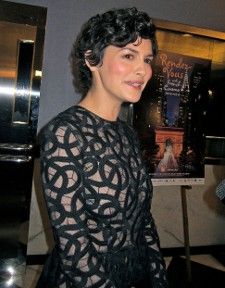 Audrey Tautou at the New York Rendez-vous with French Cinema earlier this year Photo: Anne-Katrin Titze
I liked her sense of mystery - she is very human. She is not a typical heroine but finally she is very individual. She is a very paraodoxical character because she is contemptuous of this stifling world around her, with its idiotic rules, but she bends to its conventions. I cannot completely understand it, but also I found her continually perplexing. She does not understand herself, and sometimes when you are too influenced by family and conventions you take a longer time figuring out who you are. She is a woman who learns little by little to get to know herself and what she wants, but it comes a little late unfortunately.
Did you manage to see Georges Franju's version of the same story?
I had not seen the film by Franju. I wanted to see it, but circumstances meant I wasn't able to so it was not a reference for my work here. In any case, this is Claude Miller's vision. I wanted to see it out of curiosity as a member of the audience but I didn't have time. It was probably just well because it meant there no influences.
Do you think you have you changed over the course of your career?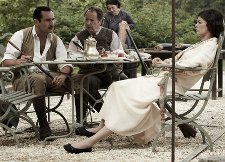 Audrey Tautou: 'Knowing yourself brings a certain serenity'
I think that you evolve and, of course, you mature and grow up. Nietsche says that success is becoming who you are. That speaks to me brecause I am still working on it. Some people are finished and complete at the age of 25 and others take much longer to find out who they are. Knowing yourself brings a certain serenity but I am not there yet - I am making progress but I have not yet passed the test.
What are your hopes and dreams for the future?
How long have you got? I will continue to do this job quietly and continue to travel and meet interesting new people. I have a lively sense of curiosity which keeps me going. I am also very discreet.
Is it easy for you to keep a sense of normality in your everyday life?
It is important for me to keep a normal life, and that is one of the reasons why I didn't try to develop a big international career because I don't like having to live a parallel life where you have all the filters and assistants between you and people. I would hate to live in some kind of ivory tower. And yes, I have refused quite a few offers to do big international roles because of that. I could never live a life in the spotlight in the way somebody like Anjelina Jolie has to. I don't take the Metro all that much because I am a bit scared of meeting that group of teenagers who have just caught up with Amélie Poulain, but otherwise I manage to blend in to the background.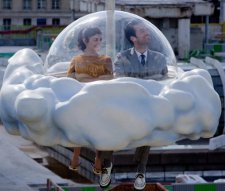 Audrey Tautou and Romain Duris in Mood Indigo'
After your walk on the dark side you have spent the last year lightening up again by reprising your character from Cedric Klapisch's Pot Luck and Russian Dolls in the third part Chinese Puzzle, and also in Mood Indigo for Michel Gondry - both with Romain Duris. How was it?
It is always a joy with Romain because we have developed at the same pace. Both shoots were fantastic. To go from Claude to Michel Gondry was a complete and utter change. Boris Vian's novel [L'Écume des Jours] was one of my favourites as a teenager but Michel is so surrealist that I had to put my ideas to one side and let myself be transported by him and the film.
Finally what did you learn from Claude Miller because he was very ill with cancer in the last period of the shoot?
It was a very special experience. He had given me one of the best roles of my career, and the chance to work with an extraordinary filmmaker. I had always heard what an amazing director he was but it turned out to be more than I had hoped or imagined. He could have made five different films with all the images and ideas he had in his head, but he made exactly the film he wanted to make. The sad thing finally was not being able to share the next part of the adventure and to share the conversations you have when you have to promote a film and also to have known him longer. Right until the end his eyes would sparkle. He was so bright and passionate.
Thérèse Desqueyroux is released on Friday (June 7) and will be available from Curzon Home Cinema. You can read our obituary of Claude Miller, here
Share this with others on...