James Floyd as Rashid and Fady Elsayed as Mo
Sally El Hosaini's My Brother The Devil is a testament to the commitment needed by first-time filmmakers and a shining example of what can happen when all the hard work pays off.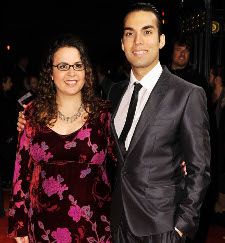 The film - about two brothers Mo (Fady Elsayed) and Rashid (James Floyd) who find their bond tested against the backdrop of working-class London marred by gangland violence - was conceived half a decade ago and when I spoke to Sally back in 2008 (read that interview here), she thought it would be shot the following summer.
In fact, the film only reached fruition last year - and had its premiere at Sundance Film Festival in January. I caught up with the Welsh/Egyptian filmmaker then, when she was on a high from the film's first screening but before the film had gone on to win awards both there and at festivals around the globe, including the Best British Newcomer award for the director at London Film Festival.
Sally - who began her film career as a translator for documentaries - said: "It's been five years that I've been trying to make this film. I think that's just the story of how hard it is to make an independent film these days. It's a learning curve when it's your first film. So you're riding the wave, and you just have to remain focused and persevere really and that's what I did. There were some great supporters, so it was through their encouragement and dogged determination. There's no secret beyond the fact that you just keep doggedly ploughing on and eventually get there.
"I kind of didn't think it would even get to this level because when I started, I thought it was going to be a lot more microbudget - make it on real shoestring on favours from friends. It was really when it got into the Sundance Middle East Lab, then the Sundance Institute encouraged me to apply to the International Lab. I was still on that journey when we spoke last."
And the journey ends tomorrow when the film is released by Verve Pictures across the UK. The mention of gangland may put you in mind of Nick Love or any one of a number of 'gritty' London-shot films, but Sally's film is an altogether more delicate prospect. She is more interested in the interplay of relationships and portraying real life, and has no interest in gun-strewn action hype.
"I do find a lot of those films really sensationalist," she said. "They're made to make money, in that sense. A lot of urban films, I actually find insulting to the world of the film because they show onscreen a certain caricature of people. And when I did my research and got to know a lot of the real boys, they're not like that. It's not the way it is in those movies. And I wanted a more honest depiction of the world and the people.
"It was part of the problem I had with documentaries - where I began working. I was working a lot on documentaries where I was the Arabic speaker or Middle East person. And I would often feel that certain opinions or viewpoints would be superimposed on to the subject matter and the truth was not properly represented.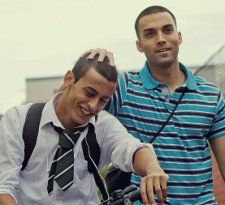 "So when I started writing this project, I stopped as soon as I had written a little bit of it because I thought, no, I feel a fraud writing this because I really need to get into this world and know it for real. So I spent a couple of years getting to know the people and a formed a few key relationships with boys.
"Once I got to know a few people - I was honest about what I was doing and they were interested as well, because they also felt that certain British movies about them and their world... well, they would laugh at them, to tell you the truth. So, they liked the fact that I was wanting to do something that was more real and more honest.
"There are different characters in the story. I have Aisha and she's a really important character because there are girls like her. There is goodness. When I was pitching this project to people and I said it was set on a council estate in Hackney, I'd get, 'Oh, okay, I get it, dark, life is grim.' And I said, 'No, actually, because if you live on that council estate, you don't think its grim, because that's home.' It's really beautiful. There's still beautiful skies, there's flowers, there's grass, there's birds tweeting.
"There's love. That's what I discovered and that's what I'd like people to take from the film - these people love each other and there is love in these families."
Noticeable in the film is a lack of racial tension within the boys' gangs. Surprisingly, it is the prospect of homosexuality that strikes a divisive note.
"That was something that was quite interesting," said Sally. "When I went on the lab, I met Tiger Williams who made Menace II Society and he was like, 'Wow, you guys in England have multicultural gangs? That is so cool.' Because in America - he really knows the world - it's very ethnically and racially segregated. In the UK, we have a more multicultural experience - it comes down to what block you live in.
"What I find shocking is the fact that you can have a film that has murder and all these horrible things happening in it - violence - and then two human beings touch lips and its like throwing a piece of dynamite into the mix, everybody explodes. That says a lot about our society. When we screened it there was an audible gasp at that point."
Casting the film proved tough, with James Floyd on board to play the older brother Rashid - who is desperately trying to keep his younger sibling out of trouble, while playing with fire himself - Sally was keen to have as many "real" boys in the film as she could. Despite an open casting of 600 kids, she said: "We couldn't find Mo".
She added: "We actually had casting scouts out in the shopping centres round London looking for him because we were in the very late stages of pre-production and the pressure was on to find our Mo, without whom we couldn't start filming. We'd be in Westfield, accosting boys of a certain age."
As fate would have it, Mo was ultimately played by someone she had been aware of all along.
"I saw Fady at Arsenal Football Stadium at an anti-knife crime event, when he was really young and I was at the beginning of the process. There was a lady there with a theatre group and I was watching their kids' production and he was there - he was really cheeky and Egyptian and he was really small. And I remember thinking, 'Shame, he's not a bit older, because he would be perfect for Mo.' "
Fast forward a few years and the pressure was on, with Sally phoning everyone she knew to try to cast the key role. She phoned up the woman from the theatre group who suggested Fady and suddenly Sally recalled him from their previous encounter.
She recalled: "I said, 'how old is he now?' because he was tiny and then I went and saw him at this theatre event he was at and I thought, 'Oh no, he's too old. I've missed him.' But he did auditions and really impressed me - and went off for his summer holidays in Egypt and didn't think he'd got it. There was a recall and we had to contact him, and he was in Egypt and the revolution was going on and he lost his passport as well. The question was, can he get back from Egypt without his passport in time for the recall and, essentially, the shoot which was starting the next week? But he managed it. He literally came straight from the airport to the audition room and he blew me away. Despite all of that, he was fantastic."
All the trials of getting the film out in the world hasn't put Sally off making more.
"On the very last day of the shoot - it had been quite a challenging shoot - everybody turned to me and said, 'Thank God, we made it. We're so relieved to stop now.'," she said. "And I actually felt sad on that last day. I thought, I could keep doing this for another couple of weeks. Then I thought, 'Oh no'. My mum said, 'So, is that it now, have you got it out of your system? No more films now?' And I said, 'Well, no, actually, it's made me want to do it even more.'
With such a strong debut under her belt, we can all be grateful for that.
My Brother The Devil is out in cinemas across the UK from November 9. For more information on the film, visit the Facebook page.
Share this with others on...