Sally hopes to shoot My Brother The Devil at the end of 2009
Say the word "Sundance" to most people and they will think either of The Kid, Robert Redford himself, or his festival brainchild, the 2009 edition of which takes place in the mountains of Utah from January 15 to 25.
But for many budding filmmakers, it is the Sundance Institute that holds the key to supporting them in the development of their projects long before they are committed to film and showcased in Park City.
The Institute has been running various development labs for projects since the spring of 1981, when 10 directors were invited to enjoy the beautiful isolation and the company of established filmmakers who would mentor their work. And it is in the same farflung spot that, they are, nowadays, invited to shoot a handful of scenes from their films in the company of some of the brightest and best in the film industry. Among the alumni that first year, was Gregory Nava, whose El Norte would go on to be Oscar-nominated for its screenplay in 1985.
Since then, the Institute has spread its wings in terms of its programmes and now hosts labs for scriptwriting, documentary making, composing and even theatre, as well as a Native Initiative, which aims to develop indigenous work.
And the list of unknowns who have gone on to make it big includes Quentin Tarantino (helped with Reservoir Dogs in 1991), Kimberly Peirce (who was mentored, in 1997, for Boys Don't Cry – which went on to win an Oscar), James Mangold (whose Copland received support in 1994) and Darren Aronofsky (Requiem For A Dream was helped by labs in 1999). This, in turn, helps the Institute go from strength to strength as, inevitably, those alumni feel a debt to Sundance and go on to "pay back" the help they received by mentoring those coming up behind them.
This year's creative advisors include Lab Artistic Director Scott Frank, writers Marcos Bernstein (Central Station), Naomi Foner (Bee Season), Michael Goldenberg (Harry Potter And The Order Of The Phoenix), Deena Goldstone (Monday After The Miracle), Erik Jendresen (Band Of Brothers), Etgar Keret (Wristcutters: A Love Story), Doug McGrath (Emma), Walter Mosley (Devil In A Blue Dress), Ron Nyswaner (The Painted Veil), Tom Rickman (Coal Miner's Daughter), Susan Shilliday (Legends Of The Fall), Zach Sklar (JFK), Dana Stevens (Life Or Something Like It), Bill Wheeler (The Hoax) plus producer Nelson George and actor/director Kasi Lemmons (Talk To Me).
All of which makes the fight for selection for inclusion in the labs very tough – more than 2,000 people apply for the programmes and of the 12 selected for this January's Scriptwriters Lab, just one is from the UK. And Welsh/Egyptian director Sally El Hosaini is thrilled to be bringing her script for My Brother The Devil along.
Catching up with her in the middle of her packing, she is almost as passionate about the Institute as she is about her film project.
"I started researching it more than a year ago now and working on the script and it was selected for the Sundance Middle East Writers Lab in October – a regional one – organised by the Royal Film Commission of Jordan and Sundance," she says. "So the Royal Film Commission took eight projects from the Middle East out to Jordan where we worked on the scripts and then as a result of that, I was encouraged to submit to this one, which I'm going to tomorrow.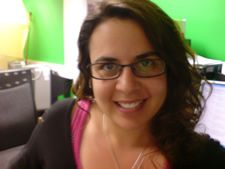 Sally El Hosaini
"It's just fantastic, what they offer, so I'm really looking forward to it, it's going to be very good. What was really useful is that you had one-on-one meetings with different creative advisors – writers, producers, who have all kinds of backgrounds and from all over the world. What was really notable is that they don't try to push you and say, 'Oh, this is not working and this is what you should do.' It's very much about you finding your own voice and story you want to tell, rather than people trying to tell you what you should do. That's what I found really great in terms of making breakthroughs on the script level.
"Now I'm definitely looking forward to this next lot, because a lot of the decisions that I made as a result of the first lab, I'll be able to test on this lab."
Sally began her career as a documentarian – "I ended up in documentaries because I speak Arabic. If you've got an Arabic connection, let's be honest, that's the kind of work you end up getting." She has gone on to work as a script editor, most recently, on the recent BBC series House Of Saddam and has just completed short film Henna Night. Now it seems its full-steam ahead for her feature debut.
"We're pretty close to being done," she says. "This lab has come, in a way, at the nth hour because we're hoping to film in late summer 2009, although that, like everything in this industry, is open to change."
My Brother The Devil is set in Hackney, where Sally now lives, and tells the stories of two Muslim brothers – aged 14 and 19 - who are members of a "postcode gang".
"It's an urban drama," she says. "Nowadays, what's happening with the kids is that the gangs aren't necessarily ethnically delineated the way they are in America, for example. It's all about what postcode you live in, and on a more practical level, it's down to what council estate you're from and what block you live in.
"So you've got gangs of kids who are now wearing their postcodes on their hats, tattooing their postcodes on their arms and necks. It's multiculturalism at its best, because you've got white kids with Sudanese, with Arab kids, Afro-Caribbean origin kids – all British but completely mixed gangs and they just happen to have grown up together in one block.
"It's really sad, some of the kids that I met only really feel safe on four or five streets, because if they go into someone else's territory it's quite dangerous for them. There's been a lot in the press in Britain about knife crime and gun crime, but what people don't realise is, it's just wanting something that belongs to them."
It is this sense of self that Sally is keen to explore with her film. Recently there has been a rash of television dramas about Muslim youngsters, frequently showing them on the brink of radicalism, such as controversial Channel 4 drama Britz, which portrayed two Muslim siblings, one who joined MI5 and the other who embraces terrorism. Although not talking about any specific programme, Sally says this tendency to show Muslims as one-note is "really dangerous".
"They're using really broad brushstrokes, so they're looking at is as though it's black and white – either you're secular or religious and, therefore, you're either good or evil. But in my feature I'm trying to explore the grey areas and really find the voice of the individual," she says.
"In the case of the two boys in my story – they're British Muslim Arabic origin boys – my thinking is that it doesn't always lead to the kind of extremism that the media tells you it does and, in some ways the greatest threats that face these children aren't the fundamentalism, it's the violence on the streets – the drugs, the gangs and the poverty.
"Sadly their parents are holding down two, often three, jobs, so the world of the parents just isn't around. So it's a world of children that inhabit the streets. They're searching for a sense of family. That's why these gangs are their families, these are their brothers and it's about belonging.
"We're always told, 'Watch out for disaffected Muslim youths, they're a big terror threat.' But a lot of the disaffected Muslim youths I know in Hackney or from lower income families are relatively apolitical. They largely oppose Britain's involvement in Iraq or say, 'I hate America' but when you actually speak to them about what that means, they don't really have the argument behind it and even those factors don't make an extremist. All they're really concerned about is playing PlayStation and what trainers and mobile phones they're going to buy.
"I think the feedback I've been getting from those who've read the script is that what people like about My Brother The Devil is, although we've been talking about these quite big subjects – terrorism, the war on terror, being Muslim, being Arabic and the gang thing, which we all know about – the script really isn't about those things. It's actually the story of two brothers, it's really about their family, about their parents and about their friends."
The lab kicked off in Sundance on Friday and runs until the day before the festival begins - and there is plenty of inspiration on display, with 10 of the films showing this year having benefited from the Feature Film Programmes, including Cary Fukunaga's Sin Nombre and Sophie Barthes' Cold Souls. Sally intends to stay on and catch some of this year's offerings at what will be her first festival.
"I'm very interested in films that have previously been involved with the Sundance Middle East programme - Amreeka and [film]Pomegranates And Myrrh[/film]," she says.
We're very interested in how Sally gets on with her project – and will keep you posted on what happens.
Read more about Sally and her work on her website and about My Brother The Devil here.
Read more about the Sundance Institute and how to apply for its filmmaker labs here.
And keep up with all the goings on at Sundance with our coverage
Share this with others on...