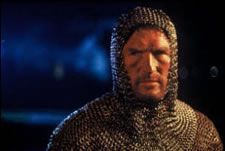 Stuntman Derek Lea in Gladiator
Have you ever wondered what it would be like to be involved in a James Bond movie? Well, veteran Derek Lea doesn't have to, having performed stunts on all four Pierce Brosnan instalments before nabbing a smart part in Quantum Of Solace (he played the corrupt agent Bond throws off the roof onto a car). "I actually tell him (Bond) to 'piss off', which was quite funny as there were a few phone calls made about the swear word. There were only two allowed in the film, Dame Judi Dench had one and I had one, so that was quite funny."
However, as much as you might think working with a big star like Daniel Craig might be intimidating, Derek takes it all in his stride. "It was great, it was a good experience. I've actually met him before on Tomb Raider and I've worked with him earlier on in his career. A genuinely nice fella". Refreshingly, the stuntman-cum-actor also had pleasant memories of working with Brosnan too. "Obviously they're physically different, personality-wise Pierce is just as nice a fella. You could stand there talking to him, there's nothing imposing about him, he doesn't make you feel awkward or anything like that, he's just a genuinely nice bloke."
Pleasingly, Derek is one too. Polite, well-mannered and affable in a normal-bloke type of way, he seems unchanged by the movie industry and comes across as a family man who just doesn't have time to immerse himself in movies day and night. "A lot of people when I meet them and get talking and they realise what I do if it comes out in conversation, they automatically assume that I'm a film buff. I just treat it as a job really and since I've had two little kids I don't even get to see what's on at the cinema so I'm always way behind. People are always asking me questions about films expecting me to know everything and I haven't even seen it, I've got to wait for DVD!"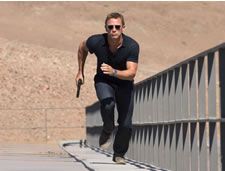 Lea says Craig is 'a geniunely nice fella'
On the other hand, though he might not be a self-proclaimed aficionado when it comes to current movies or 007, he goes straight to Bond when quizzed on impressive stunts that have caught his expert eye. "I was watching an old Bond film the other day and he gets thrown him off a cliff. It was obviously done on a dynamic rope, no CGI; the stuntman was just on one rope and he falls. That was a bit old school, but a good little job."
Of course, he's talking about an undeniably impressive feat from For Your Eyes Only, where Roger Moore flails from the top of an enormously high mountain and manages to work his way back up using – wait for it – his shoe laces. Continuing on the subject of remarkable stuntwork, the Surrey native noted more James Bond high-jinx as he praised the now renowned car jump from The Man With The Golden Gun. "I think it's gotta be when the character Walter J, is it Walter J Pepper? The old (impersonates almost flawlessly) "are you that secret agent? Are you that boy?" When he does the 360 in the car. A feat that it's worth adding, that Derek has performed before.
As you'd expect with such driving prowess, he also gets a fair amount of work behind the wheel, most notably doing all the tricky stuff for Phillip Glenister's cult-favourite alter-ego Gene Hunt. "Life On Mars was good for me as I was doing all the driving in the Cortina and, obviously, I'm 45 now so I remember those cars. I had a couple of Mark III Cortinas and (they are) great for doing stunts."
Indeed, when asked about an infamous incident where the car's owner was nervous about a scene where they drive through a narrow set of pillars Derek enthusiastically recalls "I remember that day, I had all the actors in the car and he was sweating. He was actually sweating! I said "what's up?" and he was going 'are you sure you're gonna make it through there?' I said 'yeah, yeah, it'll be alright' because I handbrake turned into it as well and then just floored it when it had to go through these posts."
But does he ever wish he was the one getting all the credit? "No, that's my job, you know what I mean? They can take the glory all day long, they've got to put up with all the people asking them silly questions all day." Don't let this modesty fool you though, his CV includes some pretty impressive work. "I've done some big films but I've played some parts in some good films as well, and I think Titanic is up there as an all-time favourite job. And I've done a couple of TV series, in one I played Richard The Lionheart in a thing called Holy Warriors and I played a character called Priscus in another thing, a historical documentary for the BBC called Coliseum: Rome's Arena Of Death. They were both good good projects and I was really pleased with how they came out and my overall performance in those."
So what's next for Derek? "I'm just sort of here, there and everywhere. A film that I caught last year is just about to hit the screens, Lesbian Vampire Killers. I've just done a Pepsi commercial, that should be quite good. I'm on Casualty tomorrow, just co-ordinating a little slap with an actress slapping an actor, so that's sort of my bread and butter work. I never know where I'm off to. All of a sudden the phone will ring and I'll be off somewhere else."
And what about returning for the as-yet unnamed Bond 23? "Who knows? Fingers crossed. I don't really go away too much on films any more, because I've obviously got the kids. I've sort of been there, done that. I like to be around, I'm in a TV group now as far as the family's concerned so I can see them but if they phone me up for another little Austria-type number I'll be there."
Out now
Quantum Of Solace is out on DVD and Blu-ray now. Buy it from Amazon, here
Share this with others on...