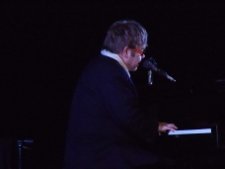 tinkling the ivories
The Tribeca Film Festival kicked off in fine style last night with a screening of Cameron Crowe's The Union. Wristbands were free to those prepared to queue this afternoon and I dutifully joined the throng of folk. It was great to see such a huge age range of people waiting to take advantage of the festival's generosity. Talking to those in the queue around me, everyone was excited at the idea of being able to see a piece of 'event cinema' for free and felt it was a much better opening night choice than they've had in recent years.
Having just missed out on a spot in the seated section, I snagged a 'standing room' band - which turned out to be one of the best, if coldest, seats in the house. As the thunderstorm promised to Manhattan blessedly failed to materialise, those of us standing were able to sit down on the floor to watch the film and 'show'.
Denis Leary popped up to introduce The Bangles who, accompanied by the choir from PS22 elementary school on Staten Island (who performed at the Oscars earlier in the year) sang Walk Like An Egyptian. The kids were clearly having an absolute blast but The Bangles' performance felt a bit mummified and wasn't nearly the high-energy blast it ought to have been. Festival co-founder Jane Rosenthal, however, certainly had plenty of life about her as she did the usual round of thanks and introduced "national treasure" Martin Scorsese who, in turn, introduced the film. Scorsese cited the similarity between he and Crowe, saying "For me, movies and music have been inseparable".
Although Crowe and one of the stars of his documentary, Leon Russell, weren't in attendance, both sent messages. Crowe from the set of We Bought A Zoo, flanked by the cast including Matt Damon, who surely must have a picture in his attic - I swear he just keeps getting younger.
The Union itself is a charming and emotionally affecting examination of the collaboration and enduring friendship between Elton John and Russell. Russell may not be a household name - although since the release of The Union album he has enjoyed a much-deserved career revival - but he was a massively in-demand session musician back in the Sixties and Seventies, playing with everyone from The Beach Boys through to Frank Sinatra, and a huge influence on Elton when he was starting out.
In 2009, Elton decided to seek him out and offer him a collaboration - The Union - which Crowe dutifully documents. The end result is an unusual combination of session documentary mixed with archive footage of both men offering an insight into how they got where they are today. Although somewhat slight in the history department, Crowe makes good use of split screen, both to showcase the men then and now - footage of Elton singing a song then and now is particularly good. He also uses split screen show them reacting to one another's work in the present. The musical interludes within the film are a treat, even if it is a bit uneven in terms of the material it presents. What shines out is the men's affection for one another and for their music, with Russell's droll sense of humour playing gently off Elton's ever-youthful enthusiasm. What The Union lacks in depth, it makes up for in heart.
And when it comes to putting his heart into something, Elton can certainly not be faulted, as his excellent set of songs following the film showed. The enthusiastic crowd lapped up versions of Tiny Dancer, an extended Rocket Man and I Guess That's Why They Call It The Blues, along with Gone To Shiloh and Never To Old (To Hold Somebody) from The Union. Elton admitted he had never sung Gone To Shiloh alone before, not that you would have guessed. He wrapped up with a beautiful rendition of Your Song, which he dedicated to the people of New York. All in all a terrific - and terrifically memorable - start to the festival.
Share this with others on...