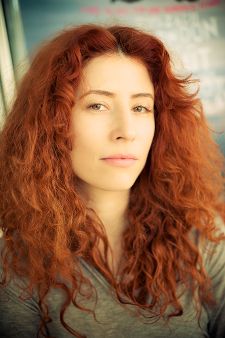 Director Alma Har'el
Alma Har'el's avant-garde documentary Bombay Beach uses dance and collaboration to explore the lives of the marginalised community who live on the shores of the super-salinated Salton Sea in the Californian desert. It offers a heady mix of life exploration and expression to a set of people - most notably a little boy called Benny Parrish, a teenager named CeeJay and an old-timer, Red - who would not normally be given such a strong 'voice' of their own in a film such as this. By the time I catch up with her Bombay Beach is already making its mark, having been named best documentary feature at the Tribeca Film Festival. It's an award that she says is "very affirming", adding: "It's really cool to have the vote of a jury for a film that I thought only my friends would like."
Har'el comes from a music video background, which was both a driver for her to make a feature in the first place and informed her style. In fact, it was while she was out shooting one of her videos that the inspiration for Bombay Beach came along.
"I was at a point where I was very frustrated with doing videos because there is no budget any more for the events that I like and there were not a lot of bands that I like who had money for doing them.
"I always had a relationship, since I moved here from Israel four and a half years ago, with Zach Condon from Beirut, who did the music with the film. And I have been doing a lot of his music videos. So, we started shooting a fun music video in Los Angeles and then we wanted to shoot almost a background story to it. And I thought it would be perfect to do it while he was in Coachella [a large Californian music festival], because he went there and I thought we could shoot something in the desert. We got there and everybody was so busy performing and drinking and nobody was in the mood to get up at 5.30 in the morning.
"So I ended up going with my friend Brian Perkins, who said: 'Hey, let me show you this place, the Salton Sea. It's a sea in the middle of the desert.' We just drove there, stumbled upon Bombay Beach and I was so taken with it that I came back the day after, and I met the kids of the beach - Benny and his brother. I had a costume in the car from the music video - it was kind of a Midnight Cowboy costume with a cowboy hat and jacket and I just said to the boy: 'Would you wear this and be in a music video?' and he said: 'Yeah, sure.' And we shot this hour-long thing which ended up being a music video, Concubine, and they're all in it, the Parrishes.
"When I saw the video after that I thought, wow, I have to make a whole film there because I just loved the place and how it played with the music of Zach."
Har'el already had an idea in her head to incorporate dance sequences within a documentary, using amateurs who would start dancing at certain points.
"I was looking for the right place and people for that and when I came there [Bombay Beach] I felt that would be the right place for it. I tried to get finacing for the movie but nobody would give me money and everybody thought it was a bit of a joke - that it sounded really interesting and cool but they didn't want to put any money on it. So I ended up just moving there for five months with a very small, cheap camera and some sound equipment. I started with the Parrishes but I immediately met other people and I knew I wanted to do a few stories - I didn't know how many - and by working with the people, it slowly revealed itself, who would be the main characters and who was open to the dance. Because it had to be a relationship. I didn't want to just film people, I wanted it to be collaborative."
It's the collaboration that is the most interesting aspect of the resulting documentary. Rather than just capturing hours and hours of footage, Har'el and her choreographer worked with Benny, Ceejay, Red and their family and friends to help them lend their own voices to the way in which they were potrayed.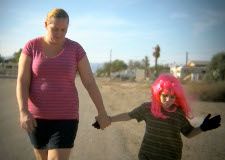 "I first came from the dance and then the documentary," she said. "The idea came to me in one piece but I was just thinking about how it would be beautiful. I love dance, especially physical, modern gesture that's not 'heavy' on the dance. It's something that I feel is very revealing about a person or a situation. I would try to get inspired by their body movements and work with my choreographer. For instance, when Benny was dancing with the other kids, we called it the Benny Dance. I asked him to show us all the moves he does when he wants to annoy people. He pats his butt and all those things - that's stuff that he really does. We made a dance out of all of this, distilling these movements into a sentence and then we taught all the other kids the same thing.
"The idea just came to me because I just find dance to be beautiful and fascinating. And I think people nowadays, feel that if they have dance in a movie it has to come out of the story so that the person has to be a dancer. I think that it didn't used to be like that. Fred and Ginger didn't need to have to explain why they went into a dance, they weren't acting as dancers but they would still dance. I thought that was something I really wanted to do and the most interesting thing is to do it with people who are not dancers because then it is even more revealing. It's not that they are hiding anything, you can just really express and tell a story like that, without words."
It's not just the dance aspects of the film that were collaborative - Har'el also gave her subjects the chance to think about what they wanted to say.
"I didn't write anything for them but I did have them improvise," she said. "So I would sit and tell them what to talk about. So, let's say when Pamela [Parrish] goes to talk to her daughter, it's something Pamela and I discussed, that she was worried about that maybe they are growing and it's coming to a point where boys start to get in.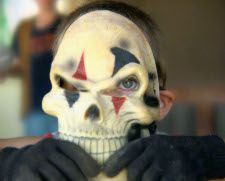 "And I said, 'Well did you have a conversation about it?' And she said: 'No but I should, it's coming up but I don't know when.' I said: 'Why don't we go and do it together and we'll find a really beautiful place to do it?' And then we would go and I would say, 'Just start talking to her about it. Then I would film it and we would laugh because it was embarassing and then we would stop and then we would start again. So it was more like an improvisation thing, where they were exploring something - but I never told them what to say."
Where many documentarians would fight shy of talking about this sort of back and forth, Har'el is more than happy to talk about it - and insists the only thing that makes her documentary different from many others is the fact that she's being open about the collaborative aspect.
"It is unusual because you're coming out and saying it", she said. "It's silly because everybody does it and tries to hide it and I don't get it. You're making a documentary about people and your whole artform is about pretending that you don't really know them, that you're discovering them, even though you've spent so much time with them and there's so much intimacy. And that things are spontaneous. I've seen many documentaries getting edited and I know how many times people say, 'Say that again', 'let's do that again', 'That wasn't clear, say that sentence again'. Or, 'Let's show the dad waiting for the kid coming back from the airport with the kid and film it with three cameras'.
"This was more like, we know we're making a film, we're not pretending that we are not. We are making a film together about your life and your story. And, let me be part of it and tell you what I want to do and let's see how we can tell your story in a way that's beautiful."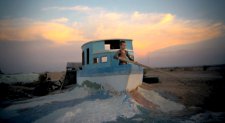 The director describes the whole experience as "the best summer of my life" and it's also worked out pretty well for her film's protagonists. Benny, who is seen taking a cocktail of drugs for Attention Deficit Disorder among other things, is now seeing a specialist who will "diagnose him properly", while Ceejay got the full college sponsorship he wanted. As for Har'el herself, the future is looking bright, with Bombay Beach also picking up an honorable mention at Sheffield DocFest.
"I have two scripts that I'm working on," she said. "They're features but they also have elements of fantasy and dream, movement and a lot of improvisation but they're more set in a story. I want to just keep making films and be with people that I like and connect to. You have to find the people and things that you feel really at home with.
They can be very different from you but if they have something that makes you feel together and comfortable then beautiful things can happen and I just hope I can meet more people like that."
Share this with others on...