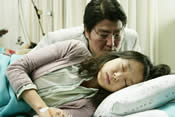 Song Kang-ho and Jeon Do-yeon
Director Lee Chang-dong, came to directing late after spending years as a novelist and later a screenwriter. Secret Sunshine is his third movie and deals with that most biting of emotions – grief. Following a press screening at the New York Film Festival he talked, via an interpreter, about the motivations behind the movie – which was inspired by a real place in South Korea.
He said: "The town is just an hour or two away from where I grew up. I always wondered from a very young age, how could a city that is so ordinary and has no flavour have such a poetic name. It might be the very reason why I made the film."
Whatever the reason, Lee came to it with a blank slate when it came to casting, although he has ended up with two critically acclaimed stars in the lead roles. Jeon Do-yeon has been receiving plaudits since her work in The Contact back in 1997, while Song Kang-ho got his career break thanks to Lee in Green Fish and has since gone on to star in everything from Sympathy For Mr Vengeance and The Host.
He said: "I wasn't thinking of these two actors in particular, I was just writing the screenplay. The female character has a much larger presence and role in the film but I tried to make it work out so that there was a balance and give and take between the two characters.
"It was very important to have a balance. The female character is the one that carries the film from scene to scene to scene, while the male character is a very typical representative of the type of man you would see in this town. The balance that I wanted to show was that the female character has the darkness and is a tragic character whereas the male lead is light and bright and funny."
The actors embraced the idea of working with Lee, however. Song said: "Lee Chang-dong is my mentor. I owe him everything. I remember walking onto the set of Green Fish. That film starred the greatest actors in Korea at the time. Han Seok-gyu, Shim Hye-jim and Moon Sung-Keun. I was there for my first shoot, and Chang-dong introduced me. He kept showering me with compliments. He talked me up to them. I think that gae me a sort of confiecne. He instilled confidence in me and I owe him my career."
Jeon adds: "I didn't feel the need to read the screenplay before saying yes. The movie's directed by Chang-dong, and it stars Song Kan-ho. I just knew I wanted in."
In the film, Jeon plays a woman wracked by grief and struggling with her beliefs. Her character name, Shin-ae, is therefore appropriate.
Lee said: "Shin stands for belief and the ae is for love, you can interpret that as having a particular meaning but all Korean names have a meaning, because they are drawn from characters."
When it comes to the central theme, though, the director insists that there was more to his vision than an exploration of sadness.
He said: "I didn't particularly want to make a film about suffering itself but I wanted to look at how the viewer looks at what happens after you overcome the suffering. I think that it was probably a very difficult process for Jeon Do-yeon to play this kind of role because so much of what she is in the film is an expression of grief and suffering. An actor has to feel that, so it was probably very difficult for her. The approach I wanted her to take was to think about and receive these particular feelings and what would her reactions to them be.
"What's important is what we don't see, we are not able to see God nor are able see anything which is faith but I what I wanted to express is the material things that we do see, which is reality.
"What I wanted to show in this film is Shin-ae's fight, her struggle with God. If we believe in God then that becomes faith, if we struggle with God that becomes madness."
Jeon adds: "Chang-dong told me to surpass myself, to go enven further. I didn't know what that meant, I still don't know what it means exactly. This movie was exhausting, both emotionally and physically, but it did give me the chance to surpass myself. I known I've improved. I hope the audience will be able to see it as well. That's the meaning Secret Sunshine Holds for me."
Share this with others on...